Best packing practices: How to save space when packing your suitcase
No matter how long you're going away for, you'll want to pack light but somehow you quite often end up carrying twice the luggage allowance. It can be a stressful situation. While there's a lot to think about, rest assured this science does have some rules that travellers often learn the hard way. We've narrowed down on some tricks that'll save you some space to even bring some souvenirs back like a pro. Read on.
1. PACK BY ORDER FOR PEACE OF MIND
There's nothing more annoying than packing stuff only to realise that you won't wear it. We know it can take some time, but it'll surely pay off in the end. Put your itinerary in front of you and pack accordingly and in order. Packing cubes are a great way to organise all your clothes in order of either use or style. This way you'll be more organised, won't have to topple your suitcase over just for a pair of socks.
2. KEEP TOILETRIES IN YOUR WEEKEND BAG
Always keep a transparent bag for your travel sized shampoo and hand cream in your weekend bag. This will save some precious time and energy during security check. It's better to always leave them in your handbag, so when you pack your main bag, you won't have to worry about the little essentials when it's 11:30 p.m. the night before your trip and all you've done is taken your bag out of the wardrobe.
3. BE RUTHLESS
Think twice about everything you put in your bag and then remove half of it as a general thumb rule. – especially the 'just in case I need it' category. If you would, you can probably buy it from where you're travelling to. Go for the tried and tested all timers and ditch the last-minute purchases – no one in Santorini will know if it's the 164th time it's being worn.
4. HEALTH CHECK
Visiting different climates and tasting exotic cuisines sure is tempting, but it's good to prepare yourself in case of food poisoning and mosquito bites. Yes – we're talking health kits. Probably the only thing you should carry from the 'just in case I need it category', keep a toiletry bag stocked with plasters, pain relievers, cold medicine, medicine for stomach trouble, antibiotics, etc. If you never have to use it, you can save it for your next holiday!
5. PACK THE RIGHT FOOTWEAR
While travelling, it goes without saying that you should be wearing comfortable footwear. As trainers may take up a significant amount of space in your bag, it's best to wear them. Not only will they give your bag some breathing space but will also ensure you have a comfortable journey. While packing, ditch the heels you might wear for one fancy night out and instead opt for dressy sandals that are comfortable enough to wear while sightseeing as well.
6. ROLL! THE SOFT CLOTHES AND FOLD THE BULKY ONES
Don't underestimate this tip at all because rolling up your clothes could save up more space than you could imagine. Simply folding your clothes and stacking them in the suitcase means rectangles and squares with inefficient space gaps in between, making the whole suitcase may seem like a Tetris problem. T-shirts, jeans and knitwear don't wrinkle when rolled tightly whereas blazers, skirts and other stiffer fabrics should be carefully folded.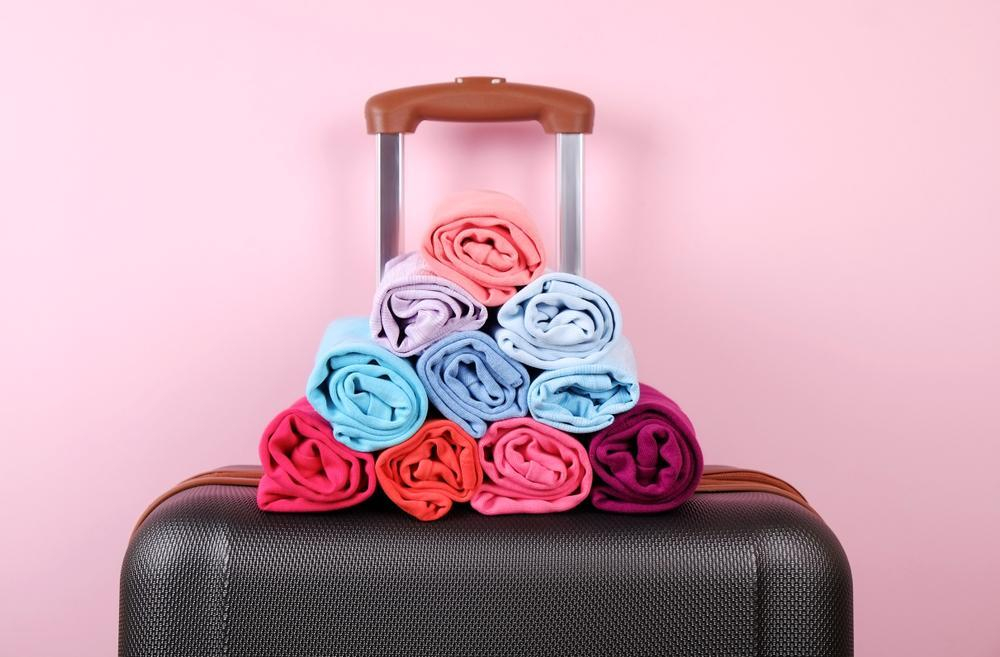 7. PROTECT ANY BREAKABLES
If you're carrying fragile items, be sure to wrap them in sturdy clothing like your jeans and place them in the centre of the bag where they can be cushioned by other clothes. Alternatively, you can go for a bubble wrap but make sure you don't wrap your items too tightly, as this may increase the likelihood of it breaking.
8. CHECK YOUR LUGGAGE WEIGHT
Remember: If you want to travel light, it's not what you pack that matters — it's what you don't pack. If you're someone who constantly checks their luggage weight till the last minute, throw in our compact luggage scales into your bag to quickly check your weight before you reach the gate!
Do you perhaps have any suggestions we may have missed out on?
Wishing you happy, safe & light travels!