Pancake Day: Vegan, Protein & American Pancake Tips & Recipes
With Pancake Day just around the corner it's time to get planning. Why settle for another year of lemon and sugar when there's so many alternative pancake recipes available this year? Perhaps your attempt at Veganuary is still in full swing and you're looking for some vegan pancakes, or the gym resolutions have stuck and protein pancakes are more your style. Whatever you prefer, we have a few recipes below to attempt on Shrove Tuesday.
Vegan Banana Pancakes
Pancakes are one of the easiest foods to find vegan alternatives for these days, simply swap out the milk for your favourite non-dairy milk alternative and use mashed bananas as your egg substitute and you're good to go! The bananas give a naturally sweet taste to the pancakes, eliminating the need for sugar in your cooking. If you're looking to achieve fluffy American style pancakes, simply add a dash of baking powder to your batter for a thicker style pancake. Once ready, top with syrup and fresh fruit and enjoy.
For an added layer of flavour, thow in some whole blueberries as you mix up your batter for delicious blueberry pancakes, or swap them out for chocolate chips if you're looking to satisfy your sweet tooth.
1 banana
100g plain flour
1 tsp baking powder
250ml dairy-free milk
½ tsp ground cinnamon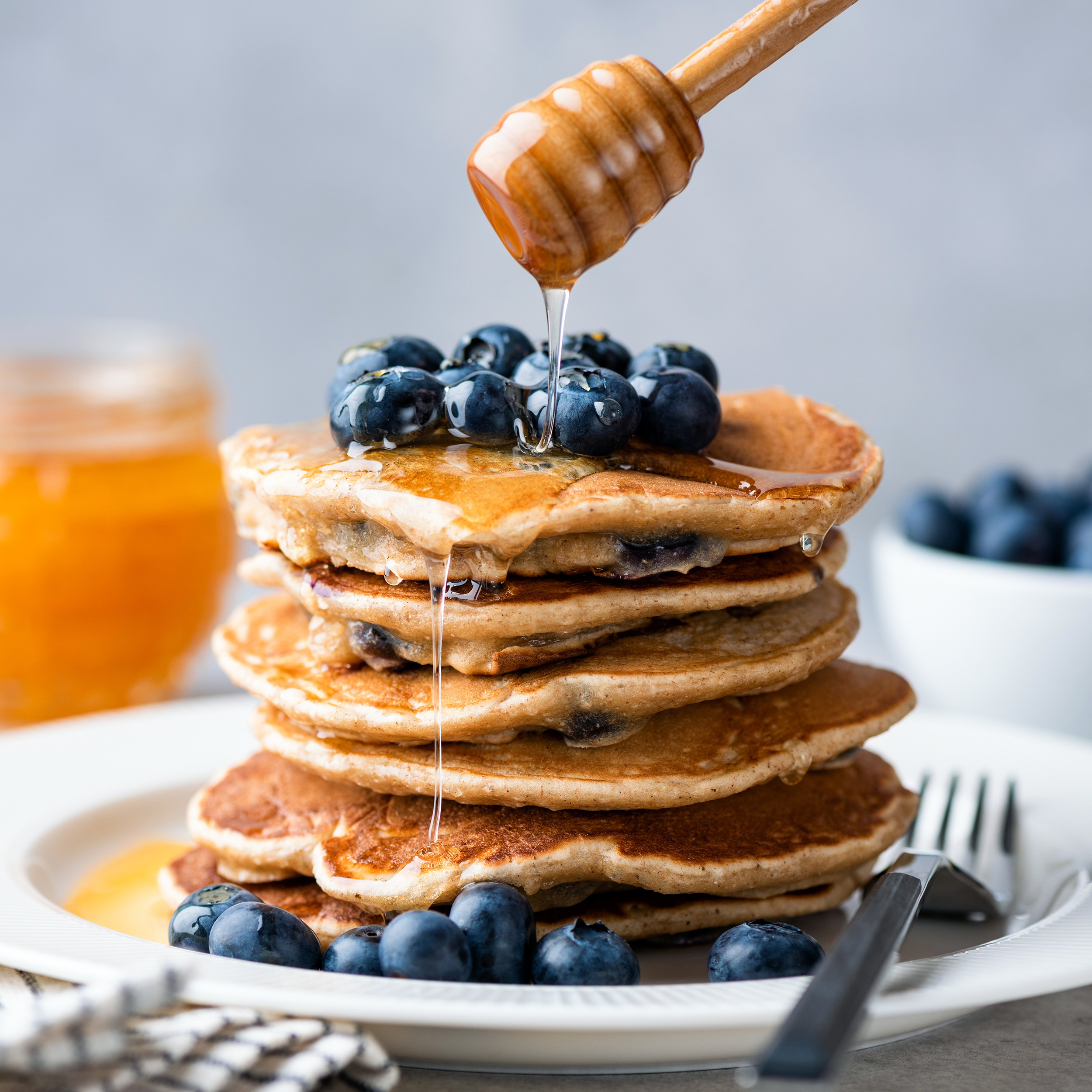 Protein Pancakes
If you're trying to live a healthier lifestyle this year, pancakes generally tend to be lacking on the nutrition side, meaning they're not the best choice when it comes to fuelling your body. However, these protein pancakes are a great alternative. With the recipe containing 60g of protein, they're the perfect solution if you're looking to join in on Pancake Day this year whilst still sticking to your goals. Our recipe uses unflavoured whey protein but chocolate or vanilla would also work well to add some extra flavour!
Our Salter Frying Pans are the perfect tool when cooking your pancakes. Requiring little to no oil, you can pour the batter straight onto the hot pan without having to grease beforehand. Simply let them cook and flip when golden brown. Just ensure that all your ingredients are accurately weighed out so you can keep track of any fitness goals you're looking to achieve.
Topping wise, if you're looking to stick to the healthier options, Greek yoghurt and fresh fruit work well together. If you've opted to add chocolate protein powder into your batter, top with chocolate spread and bananas for an extra sweet treat.
1 banana
75g oats
3 tbsp of protein powder – unflavoured protein works fine but vanilla or chocolate will give great results
3 eggs
1 tsp of baking powder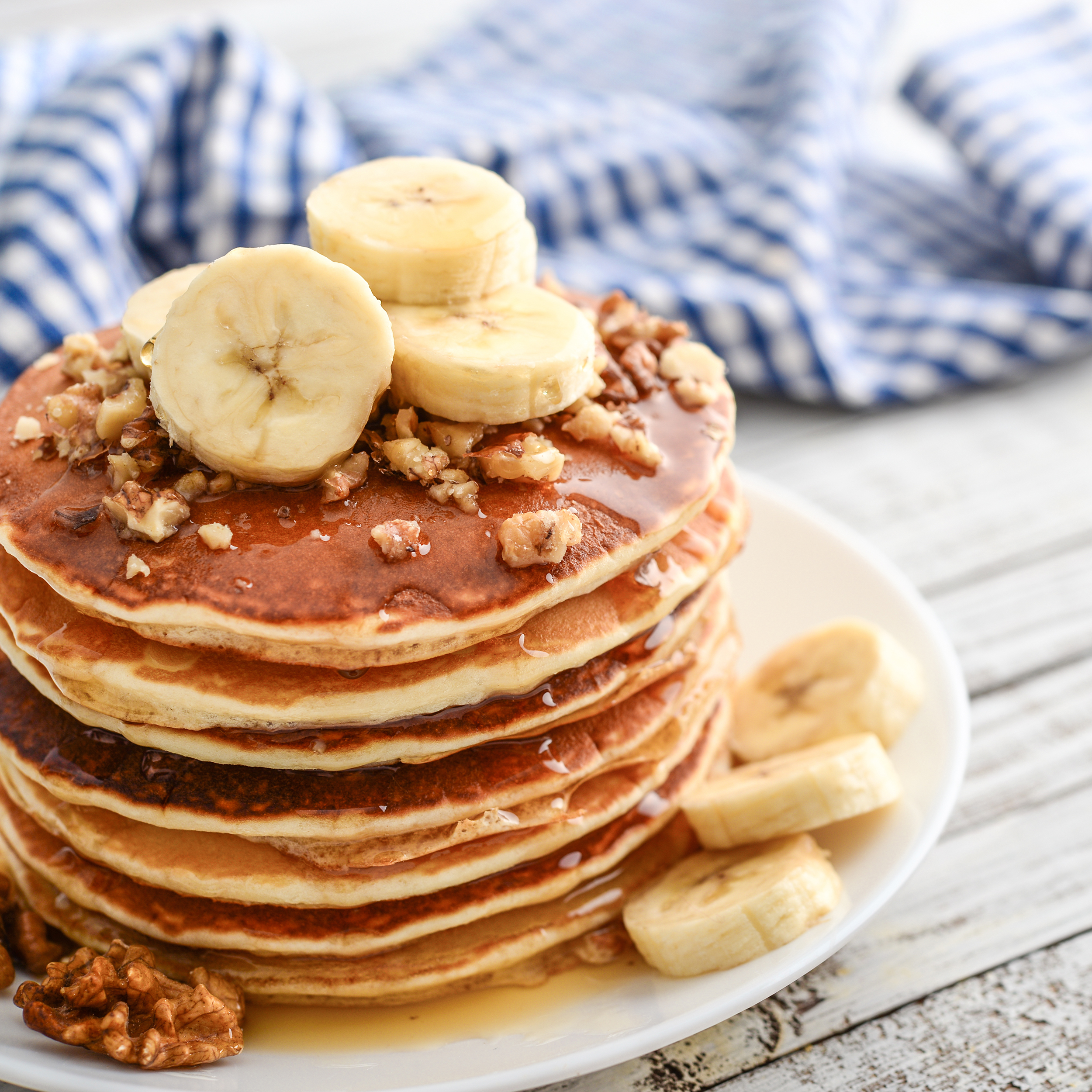 American Pancakes
If flying over to the states isn't quite in your Pancake Day budget this year don't worry, we've found the perfect recipe to ensure you can enjoy fluffy American pancakes from the comfort of your own kitchen. The key to achieving a light, soft and fluffy pancake is adding buttermilk into your batter. The buttermilk activates the baking powder in the batter which helps your pancakes rise whilst frying. Not only does the buttermilk help activate the baking powder, it also helps to break down gluten in the flour creating soft and fluffy buttermilk pancakes every time.
Once your pancake mix is ready, leave it to sit in the fridge for 10 minutes to ensure the buttermilk has time to react in the batter for extra fluffy pancakes. When ready to cook, spoon a ladle of your batter into your pancake pan then allow them to brown and flip when ready. Serve them warm fresh off the pan and drizzled in maple syrup.
350g self-raising flour
1tsp baking powder
2 tbsp caster sugar
200ml buttermilk
400ml semi skimmed milk
2 eggs
85g melted unsalted butter