Salter Celebrates Mothers
Celebrate the most important women in your life this Mother's day and spoil them with gifts they truly deserve. We've brought together the best of our Salter collection to ensure there's something in here for every mum, grandma and mother in law this year. Whether the women in your life crave coffee, love to shake up a cocktail or can't resist a tempting sweet treat, we've something to satisfy everyone this Mother's day.
No mother can function without a hot coffee in the morning, why not treat yours to an at home barista espresso maker. Whether they're a latte, cappuccino or espresso lover, our Salter Barista Pro Machine is the perfect gift this Mother's Day and assured to be one they'll use and treasure for years to come. Featuring a 15 bar espresso pump, the water is forced through the coffee grounds at a pressure 15 times that of the natural atmosphere, meaning you'll get a strong espresso brewed in no time.
With our coffee machine making two cups at once, this gift is the perfect solution for when you want to sit down with your mum for a quality cup of coffee, or for when mum needs to double up on the caffeine!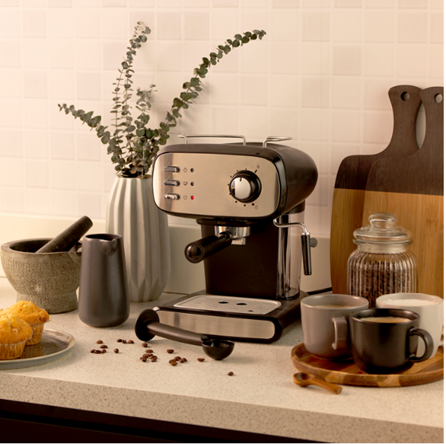 Long gone are the days of making a hot chocolate in a pan on the stove. Our milk frother makes hot beverages a breeze, letting you achieve that smooth velvety texture in seconds.
For a perfect hot chocolate, simply add your milk of choice and delicious chocolate shavings to the frother and leave to mix. Top with cream and marshmallows for a perfect luxury hot chocolate. Try adding dark chocolate shavings to the milk frother along with flavoured syrups such as orange, mint or vanilla for a rich infused hot chocolate.
Why not pair our milk frother with our barista pro and try your hand at making the perfect coffee? Whilst your espresso is brewing in your barista pro, place your milk in the milk frother to either warm your milk or froth up for a perfect iced coffee.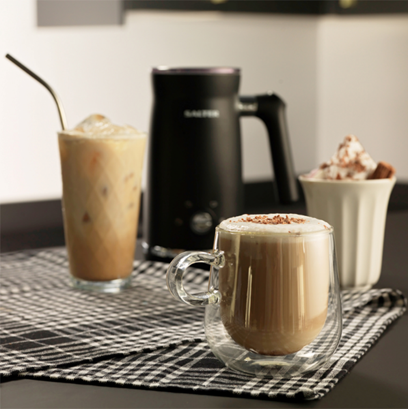 COMBO-4367 – Metallic bakeware set
If the women in your life have the culinary skills to rival that of Mary Berry then our Salter Champagne Bakeware Set is the perfect addition to their kitchen this Mother's day. Including a baking tray, roaster and square tin, this set is the perfect gift to refresh their bakeware. All three pieces boasting a heavy duty 0.6mm carbon steel body and a thick non-stick coating, meaning they're great for every occasion.
Storage is made easy with this bakeware set with all 3 pieces being stackable into one another ready to be stored away in the cupboard, so they make the perfect addition for any kitchen, regardless of size.
From baking cookies to roasting meats and vegetables, our baking set is versatile and easy to clean. Needing just a simple wash with hot soapy water and they're good to go again, this set is ideal for all the busy women in your life!