Best BBQ Tools & Gadgets for Outdoor Cooking from Salter
What is the first sign of summer for you? For us at Salter, it is without a doubt the smell of a barbecue in the air on a warm summer's day. The British public are guaranteed to fully utilise the season, indulging in delicious summer food and drinks, enjoyed the way they should be. Salter have a variety of kitchen appliances and accessories to help you master alfresco grilling with ease and of course, safety. So, we have thrown together a few ideas to help you prep for an outdoor summer gathering spent with friends and family, laughing, eating and drinking until the sun goes down.
As we all know, one of the most vital factors involved in cooking raw meat is ensuring the temperature is correct. It is particularly important to ensure that all dangerous bacteria is removed and the meat reaches the optimal temperature for consumption. BBQ fanatics advise that the best way to check for doneness is with a food thermometer. The Heston Blumenthal Precision Digital Meat Thermometer is the perfect accessory designed to provide accurate readings 5x faster than a standard kitchen thermometer. Quick and easy to use, this digital thermometer has a response time of 5 seconds, with readings down to 0.1 degrees Celsius. You can measure temperatures ranging from -45 to 200 degrees Celsius, ensuring accurate temperature readings for a variety of recipes. Whether you're cooking on the BBQ or in the oven, simply push the probe into the meat and ensure it is cooking at the correct temperature. Once the BBQ season draws to an end, this versatile gadget also allows you to achieve scrumptious treats with ease when cooking moves indoors. Whether it's tempering chocolate or making confectionary, you can simply slot the thermometer into the clip on the probe case when using over a hot pan.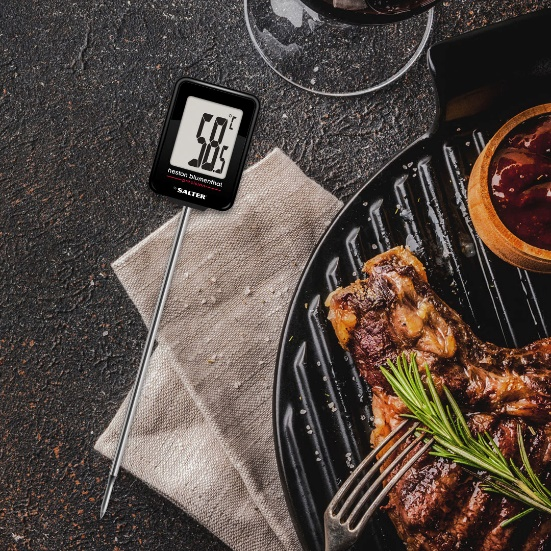 Timing is everything when it comes to grilling up the perfect barbeque. It can prove to be a difficult task juggling different meats and ensuring everything is cooked to a safe internal temperature. To make the experience a little less chaotic, the Heston Blumenthal Precision Kitchen BBQ Indoor/Outdoor Timer is designed to enhance the quality of your food by allowing you to keep a closer eye on your meat. This unique timer features a temperature check reminder, prompting you to use your meat thermometer to ensure meat is cooked to perfection. Multi-tasking has never been easier with the timer's unique turn reminder, making sure your burgers are regularly flipped and beautifully cooked for a flavour packed end result. Forget about the unpredictability of British weather, as this water-resistant timer is coated in durable silicone for outdoor use. No need to struggle when checking your cooking times too, as the Large LED display makes it perfectly simple to stay on track of things.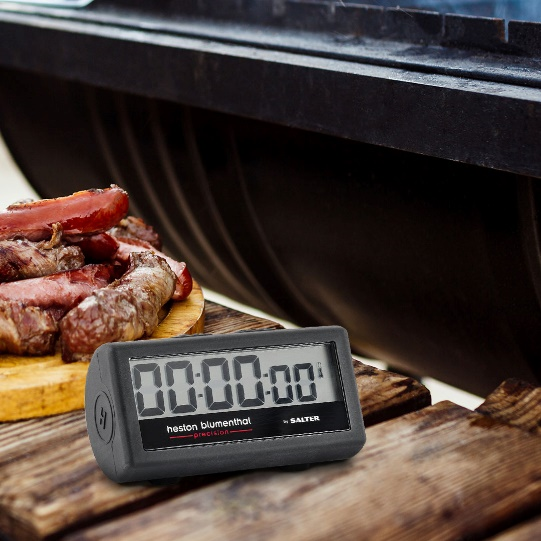 Complete your barbeque with an array of freshly made pre-batched summer cocktails to really add the wow factor for your guests. Our NutriPro Blender makes it a breeze to prepare your fruity favourites in advance. It comes with a large 1 litre cup, two 800 ml cups for drinking on the go, and storage lids to make life a lot simpler for the at-home bartender. You could embrace the balmy summer days with a frozen margarita, or add a real kick to your garden party with a watermelon prosecco sorbet. You can also create a bunch of booze-free blends with our NutriPro to accommodate to the kids, or perhaps for those who would simply just prefer a refreshing mocktail as they dine al fresco. Whatever it is, the sheer satisfaction that comes from creating your own summer smoothie is a simple delight that we can all get on board with. The blender locks in the best vitamins and minerals so you and your family can enjoy flavour packed drinks with all the nutrients you need, allowing you to celebrate the best of the season's fruit.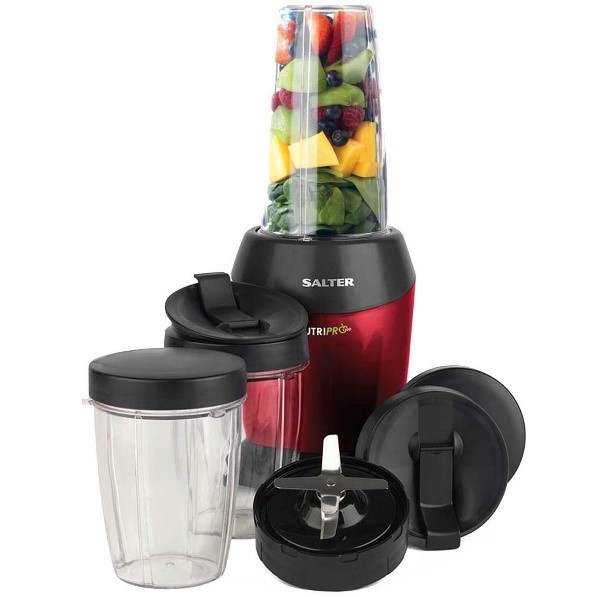 Many people are switching out their plastic straws in favour of reusable straws in efforts to become more environmentally conscious and help to build a sustainable future. It can sometimes seem overwhelming knowing where to start, however, small changes make an impact too. The Salter Eco Reusable Stainless Steel Straws are a great plastic-free alternative for garden parties, picnics, camping, and more. They are super durable so won't break or bend, plus they are non-toxic, stain-free, rust proof, scratch proof. The set of 8 comes complete with a sisal fibre cleaning brush to ensure you can keep your straws fresh and clean, and a handy cotton drawstring bag to store securely and neatly away in a bag.