Best Kitchen Gadgets for the BBQ
BBQ season is great fun; uniting friends and family outside with a delicious array of food cooked before their eyes. Using a barbecue correctly isn't a difficult task to master however if it's your first summer trying out a spot of al fresco grilling, Salter have a variety of kitchen gadgets ad accessories to help make the process a bit easier! Salter's tools are designed to ensure that your meat is cooked safely for your guests which can be slightly harder to judge on a barbecue.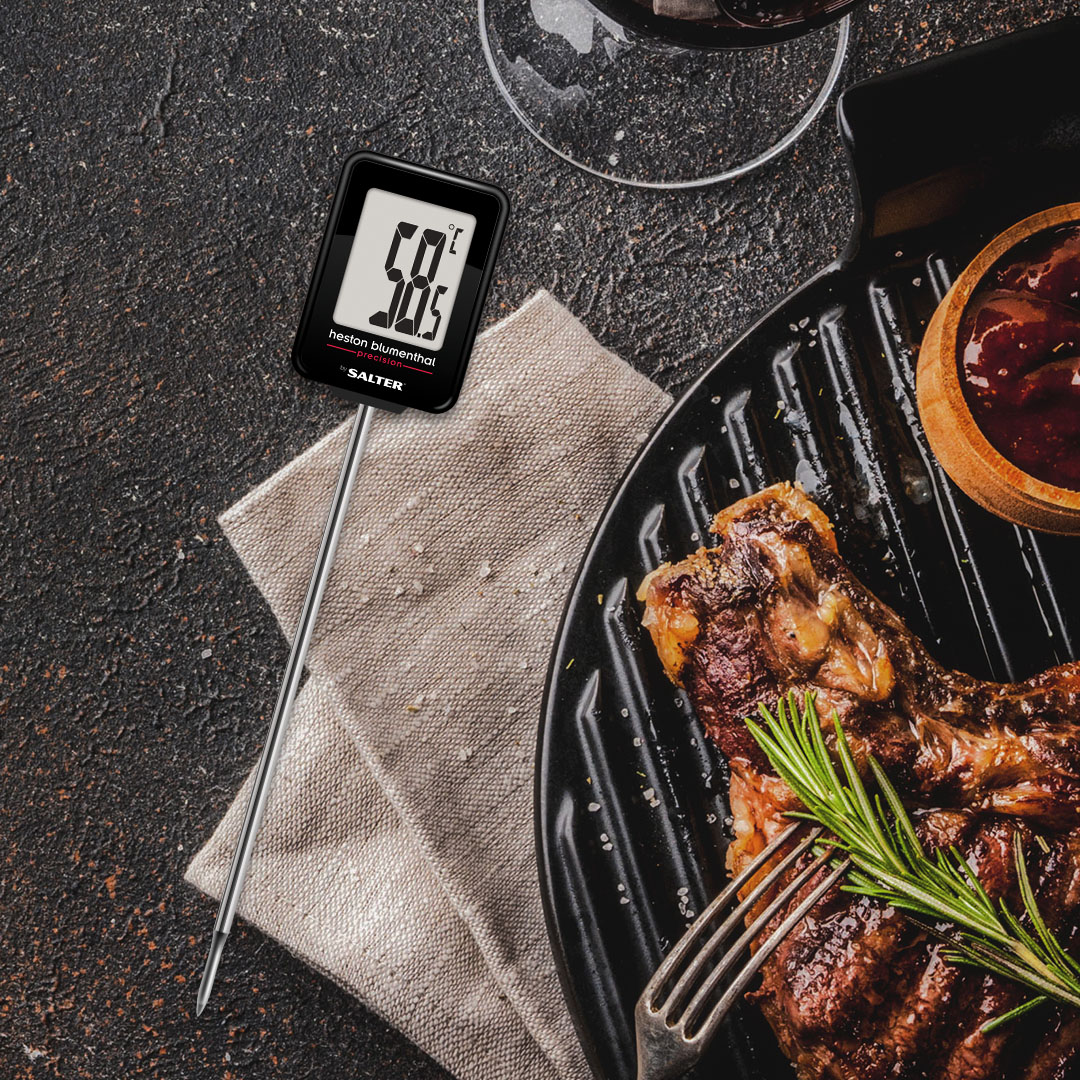 One of the most important parts of cooking any raw meat is ensuring the temperature is correct. Every meat has different temperature requirements to ensure all dangerous bacteria is removed and the meat is fully cooked through. The Heston Blumenthal Precision Digital Meat Thermometer is the perfect accessory designed to provide accurate readings 5x faster than a standard kitchen thermometer. Quick and easy to use, this digital thermometer has a response time of 5 seconds, with readings down to 0.1 degrees Celsius. You can measure temperatures ranging from -45 to 200 degrees Celsius, ensuring accurate temperature readings for a variety of recipes. Dry joints are a thing of the past with this handy gadget, whether you're cooking on the BBQ or in the oven, simply push the probe into the meat and ensure it is cooking at the correct temperature. Once the BBQ season is over, this versatile gadget can be used for roasting and confectionary making when your cooking needs to move indoors.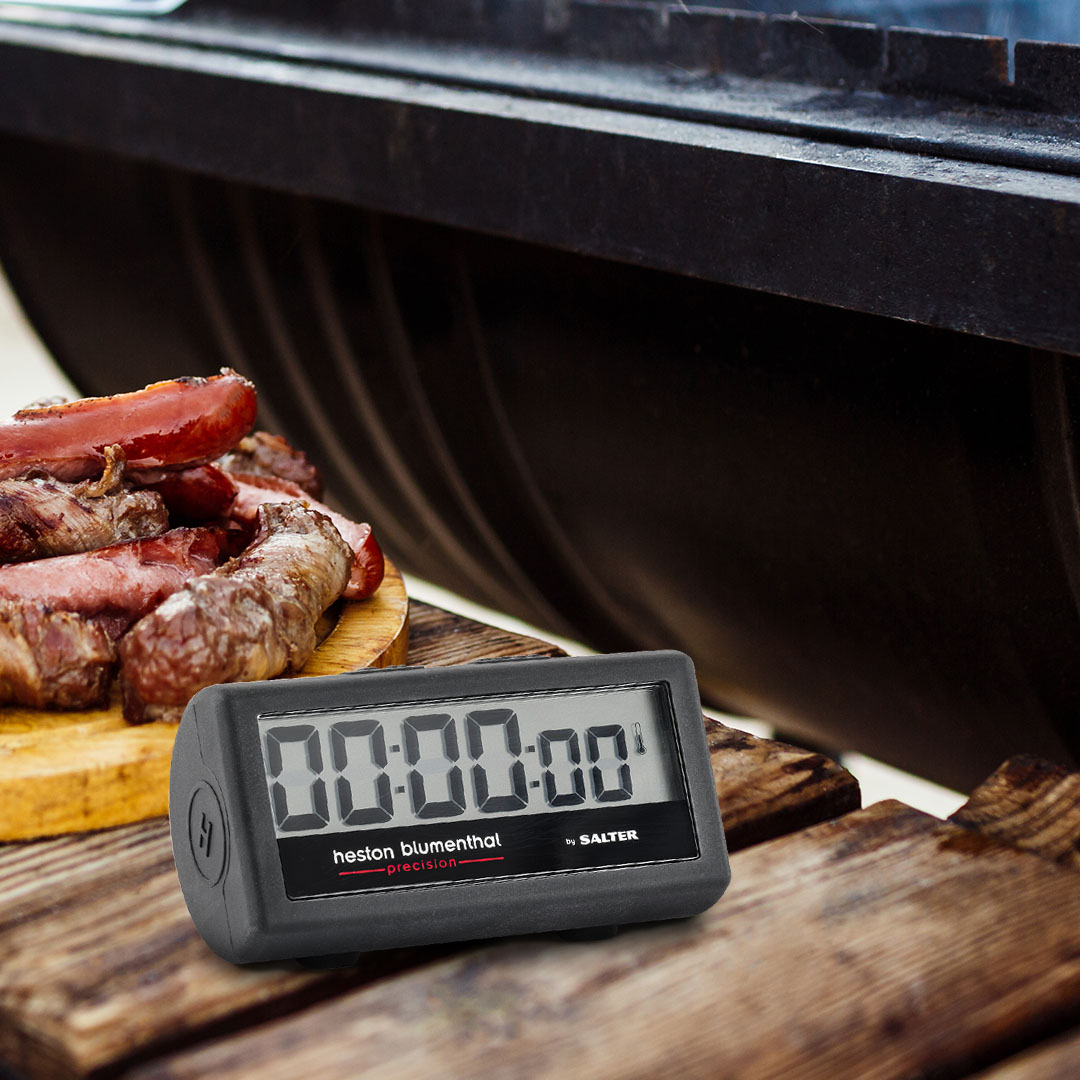 Another vital part of using the barbecue is timing. Due to varying across sections of a grill, ingredients will cook at different times, and with different shapes and sizes it can be tricky to keep track of everything. The Heston Blumenthal Precision Kitchen BBQ Indoor/Outdoor Timer is made to help improve the quality of your cooking by helping you keep a closer eye on everything you are cooking. This unique timer features a temperature check reminder; prompting you to use your BBQ Meat Thermometer towards the end of cooking to ensure meat is cooked thoroughly; a unique turn reminder to ensure your burgers are flipped to regularly to produce an even result and count or down functions. This timer is IPX5 rated for water resistance and coated in durable silicone for outdoor use, perfect for the unpredictable British weather. You won't need to squint to check your cooking times, thanks to the large LED display.
Seasoning on your BBQ is something a lot of us seem to forget but it can really make all the difference. The Salter Stainless Steel Electronic Salt and Pepper Mill Set is a must have for all cooking styles or for the dining room table. With one hand operation, at the touch of a button they are great for when you are juggling multiple dishes and are even easier to use on the BBQ when turning meat. These easy to use Salt and Pepper Mills, feature an adjustable grind so you can change the fineness of your seasoning ranging from course to fine. Try cracking on lashings of course black pepper to barbecued fish to add extra flavour! The crystal-clear acrylic design allows you to not only see the contents of the mill, but they are also an indication of when you need to top them up. An additional built in light illuminates the seasoning area and a brushed stainless-steel construction makes for a sleek addition to any kitchen or will look great at the centre of your BBQ platter. The base cap keeps contents fresh and reduces spills between uses inside and out.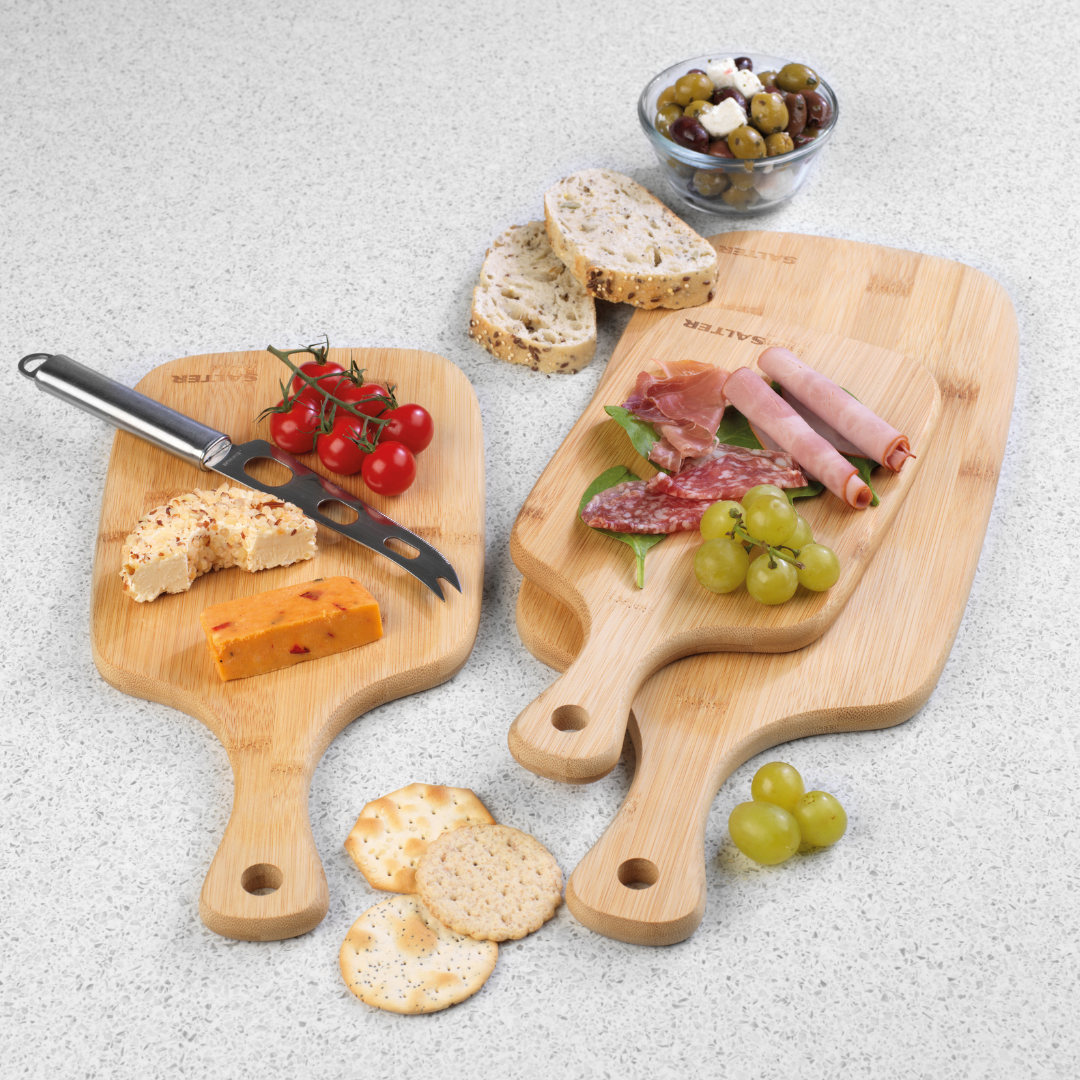 Need something practical and stylish for serving snacks and stacking food once it's off the grill?
Our Bamboo Paddle Chopping Board Set will look perfect on any table or on the kitchen counter too. Brilliantly versatile, you can use the boards every day whilst preparing ingredients for a family meal, and they're equally great for serving up sharing platters, side dishes or placing burgers. With convenient handles, so you can easily manoeuvre the boards to serve your creations. Your ingredients are sure to look great on these wonderful bamboo paddleboards.
With a little help from Salter's unique gadgets, you can ensure your BBQ food is cooked and seasoned to perfection, ready to impress your guests, whilst still being easy to use to ensure the relaxed nature of 'barbecuing' isn't lost. The versatility of these tools allows you to use them through the seasons both outdoors and indoors.