International Waffle Day with Salter
International Waffle Day is coming up and what better way to celebrate than to get in the kitchen and make some delicious fluffy waffles.
Classic Waffles
A classic waffle recipe is simple, and the only special equipment you need is a waffle iron. We recommend the Salter Deep Fill Waffle Maker for extra thick and tasty treats. These waffles are perfectly crispy on the outside yet soft and fluffy on the inside and can be topped with anything from fruit to chocolate to syrup, or all of the above.
150 g self-raising flour
1 teaspoon baking powder
1 teaspoon sugar
1 large free-range egg
240 ml semi-skimmed milk
All you need to do is mix the dry ingredients in a bowl, then gradually beat in the egg. Lastly, add the milk slowly while whisking to ensure you have a smooth mixture. Once the mixture is all combined, simply spoon it into the preheated waffle iron and cook until golden.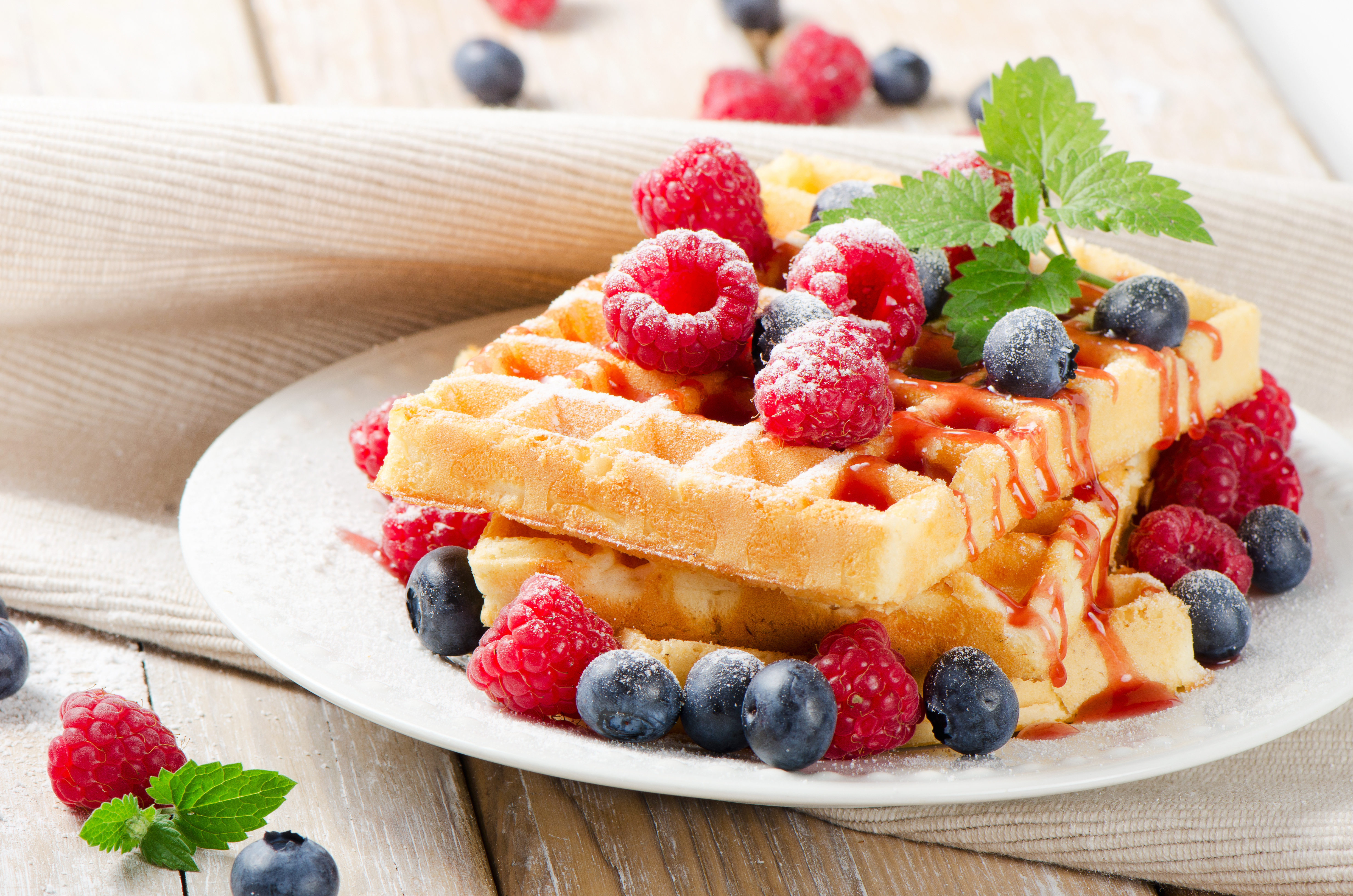 Chicken and Waffles
If you're looking for something more savoury, why not try the American diner classic of chicken and waffles. The waffles are served with fried chicken and maple syrup, creating the perfect balance of sweet and salty. Try making the fried chicken in an air fryer, such as the Salter Aero Grill (https://salterhousewares.co.uk/aero-grill-pro-air-fryer-and-grill/), to create a deliciously crispy coating on the chicken. The classic waffle recipe works great for this too.
4 skinless and boneless chicken breasts (about 500g total weight)
1 x 284ml pot buttermilk
250g plain flour
1 tsp dried thyme
1½ tsp paprika
1 1/2 tsp salt
50ml (2fl oz) semi-skimmed milk
To make this at home, butterfly the chicken breasts, put them between two pieces of cling film and flatten them slightly with a rolling pin. Put the chicken in a bowl with 1/3rd of the buttermilk and leave to marinade between 30 minutes and overnight.
Put the flour in a shallow dish together with the salt, thyme, and paprika. In a separate bowl, mix the rest of the buttermilk and the milk. Mix 3 tablespoons of this mixture in with the flour mixture and coat the chicken in the flour mixture, then the buttermilk, and finally, the flour mixture once more. Cook the chicken for 18-20 minutes in an air fryer until it's cooked through. Serve the chicken on top of the waffle and drizzle with maple syrup for a deliciously indulgent dinner.
Omelette
You might think that you know what a waffle maker can do, but did you know you can also make omelettes in one? This recipe allows you to easily make soft and delicious omelettes in your waffle maker.
3 Large eggs
Salt
Pepper
30g grated cheddar cheese
Handful of spinach
Simply beat the eggs together in a bowl, add the cheese, spinach, salt, and pepper, and pour your mixture into the preheated waffle iron. Cook the eggs for 4-5 minutes until they are golden and serve. Delicious, waffle shaped omelettes in no time!
If you are not sure about making waffle-shaped eggs, why not invest in the Salter 4-in-1 Snack Maker, which allows you to make waffles, omelettes, paninis, and toasties all with just one appliance.