Is An Air Fryer Cheaper To Run Than An Oven?
If the current rising cost of electricity has left you reeling as to how you can try and save money in your household then perhaps it's time to invest in an air fryer. Here at Salter, we've compared the energy usage of our Air Fryers compared to a traditional domestic oven to see which performs better in terms of energy conservation. Carry on reading for some energy saving tips.
One of the main selling points of an air fryer is the speed at which it can cook food compared to a traditional oven. Because air fryers are much smaller than conventional ovens, they can reach a high temperature much quicker than an oven – our Salter Dual Cook Pro 8.2L air fryer can reach 200 degrees in just under 3 minutes.
The general rule of thumb is that food cooks 25% quicker in an air fryer as opposed to an oven – so not only are you reducing cooking time but you're also reducing the amount of electricity used which in turns helps bringing those ever increasing bills down slightly.
If you often find yourself cooking for a crowd or have a larger family then our Salter Dual Cook Pro might be the air fryer for you. Complete with two baskets, it means food can be cooked separately in both compartments at different temperatures and times.
When looking at the cost to run the air fryer for an hour a day on maximum power with both baskets in use it would cost you the below:
EK4548 Dual Air Fryer – 1450-1750W:
Energy used whilst on max for 1 hour – 1.75kWh
Cost per hour – 1.75kWh x £0.28 per kWh [1] = £0.49
If we compare this to the costs of using a domestic electric oven for an hour you can see the striking difference in cost between the two:
Domestic Electric Oven – 2000W/ 5000W:
Energy used per hour low– 2kWh
Cost per hour – 2kWh x £0.28 per kWh [1] = £0.56
Energy used per hour on high – 5kWh
Cost per hour - 5kWh x £0.28 per kWh [1] = £1.40
Taking into account the speed at which air fryers can cook food, the chance of using your air fryer for more than an hour a day are rather low which helps lower the cost even more.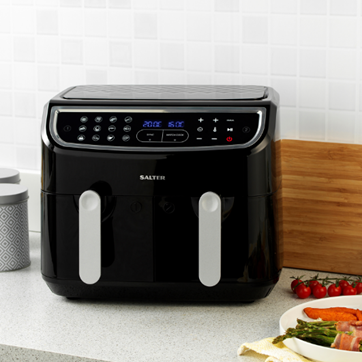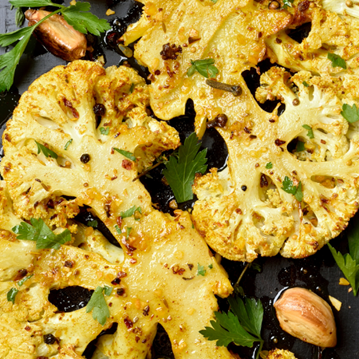 EK2818 – Salter Go Healthy 3.2L Air Fryer

If you tend to cook smaller meals and you're looking for a more compact air fryer then the 3.2L Go Healthy Air Fryer is the perfect air fryer for you. Able to reach maximum temperature of up to 200 degrees it's the perfect countertop appliance to help speed up your cooking whilst also saving the pennies on your electricity bill.
Again, we've included the running costs for our Salter 3.2L air fryer for you to compare against the electric oven results above:
EK2818 Salter 3.2L Air Fryer –1300W:
Energy used whilst on max for 1 hour – 1.3kWh
Cost per hour – 1.3kWh x £0.28 per kWh [1] = £0.36
With the 3.2L air fryer providing an excellent energy consumption rate, it might be the perfect addition for those cooking for one or two people at a time.
Perhaps you've already invested in an Air Fryer but aren't quite sure what to cook in it? Then look no further as we've also gathered some of our favourite air fryer recipes to get you started.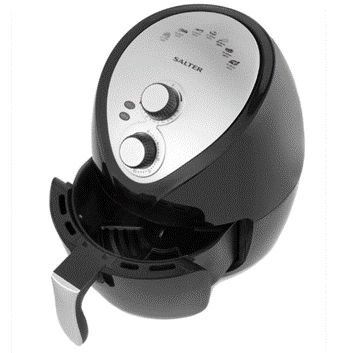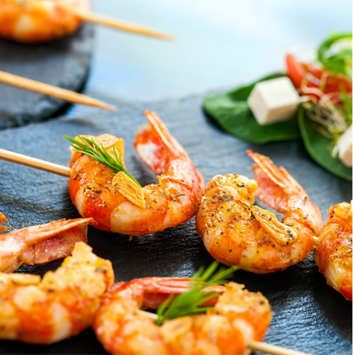 Air Fryer Sweet Potato Fries
One of the easiest and tastiest things to cook in an air fryer are fries – not only do they cook in the air fryer much quicker than they do compared to the oven or deep fat fryer, they also only require 2 tablespoons of oil per serving, meaning they're a much healthier way of cooking compared to your oven.
To serve two people, we recommend using two medium sized sweet potatoes but if you're serving a crowd or it's a meal for one simply adjust accordingly.
Begin with peeling and slicing your sweet potato into long thin strips and place in a bowl. To the bowl add 2 tablespoons of oil along with salt, pepper, garlic powder and chilli flakes (if you think you can handle the heat - if not simply leave these out or swap for onion powder for some extra flavour).
Toss the uncooked fries in the seasoning mix in order to coat all over, then place the fries into your air fryer for 15 minutes and shake the basket regularly to ensure your fries are crispy and thoroughly cooked. Once the timer goes off serve immediately. It really is that simple to achieve crispy air fryer fries.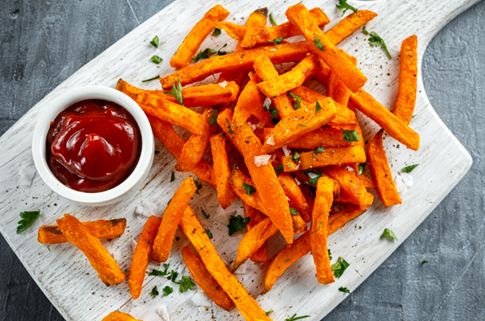 Air Fryer Chicken Wings
Another one of the easiest things to attempt in your air fryer when you're getting started is chicken wings – they require little prep time and the air fryer gives them the perfect crisp without the extra added calories of cooking in a deep fat fryer.
To start with, you'll need to create a dry seasoning mix. We recommend using our Salter Disc Digital kitchen scales to quickly weigh out your ingredients, and with the handy 'zero and weigh' function you can weigh all your seasonings in the same bowl. Combine the below ingredients and thoroughly coat your wings in the mixture. Once seasoned, place the wings in your air fryer for around 15 minutes and make sure to shake the basket often to ensure your wings are extra crispy and thoroughly cooked.
-80g Cornflour
-5g Salt
-5g Pepper
-5g Garlic Powder
-5g All Purpose Seasoning
If you prefer your wings with a sauce, simply coat them in a sauce of your choice and place back in the air fryer for a further 3 minutes before serving.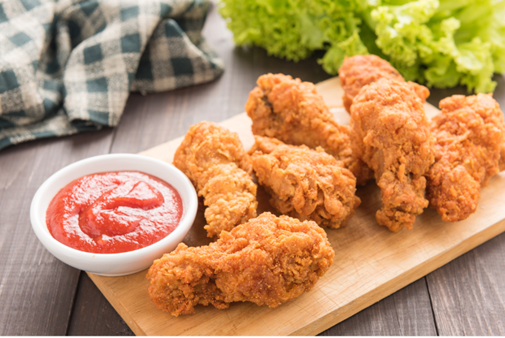 Shop our range of Air Fryers here!