Unbeleafable Summer Salads- Our Top Picks
Summer is here and what better way to soak up the sun than with an al-fresco dinner. A light and fresh salad packed full of Mediterranean flavours reminiscent of holidays abroad is the ultimate dish for basking in the heat. We've put together a selection of our favourite summer salads to accompany your BBQs and garden parties or to serve as a lighter lunch. Best of all, each is quick and easy to knock up, ensuring that you're not missing out on any of that glorious weather cooped up in the kitchen.
Chopped Greek Salad
This chopped Greek salad has been all over social media- and we can see why! Deliciously light and moreish, it combines the classic components of a Greek salad, all chopped super finely to ensure that each mouthful is filled with every single fresh ingredient. The finely chopped nature of this gem has another bonus, kids will munch away with no thought to what veggies are hidden in there! We recommend saving chopping time and blitzing the ingredients in our Electric Mini Chopper, for a colourful salad in minutes. This nifty device will also come in handy for creating smooth sauces and dressings.
Ingredients:
Half an iceburg lettuce
300g tomatoes
1 red pepper
½ red onion
½ cucumber
75g black olives
200g feta cheese
For the dressing:
1 clove garlic
1 tsp dried oregano
20g fresh mint
2 tbsp red wine vinegar
1 tbsp lemon juice
4 tbsp extra virgin olive oil
Salt & Pepper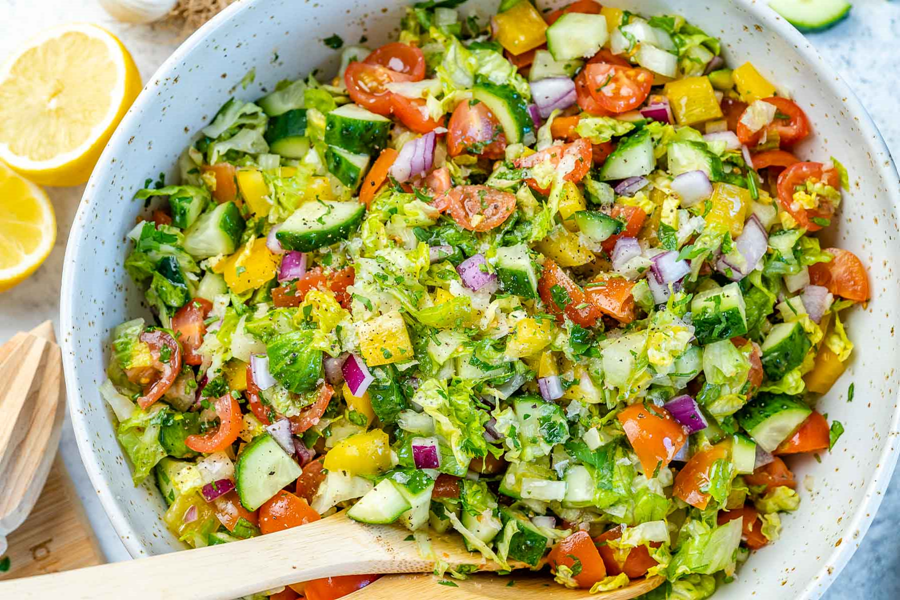 Watermelon and Feta Salad
Watermelon salad…stay with us. This wonderfully fresh salad combines the subtle sweetness of watermelon with the tanginess of crumbled feta cheese, perfect for anyone who loves a sweet and salty combo! Chopping into a watermelon can be a bit of a daunting task for novices, so we recommend using a sturdy chopping board. Our Bamboo Worktop Chopping Board with Lip is a great option, as the built-in lip prevents movement for safe chopping. Delicious as an easy starter or light lunch, once you've tried it you won't go back!
Ingredients:
½ watermelon
1 cucumber
1 red onion
100g feta, crumbled
3 tbsp extra virgin olive oil
4 tbsp red wine vinegar
4 mint leaves
1 tbsp lemon juice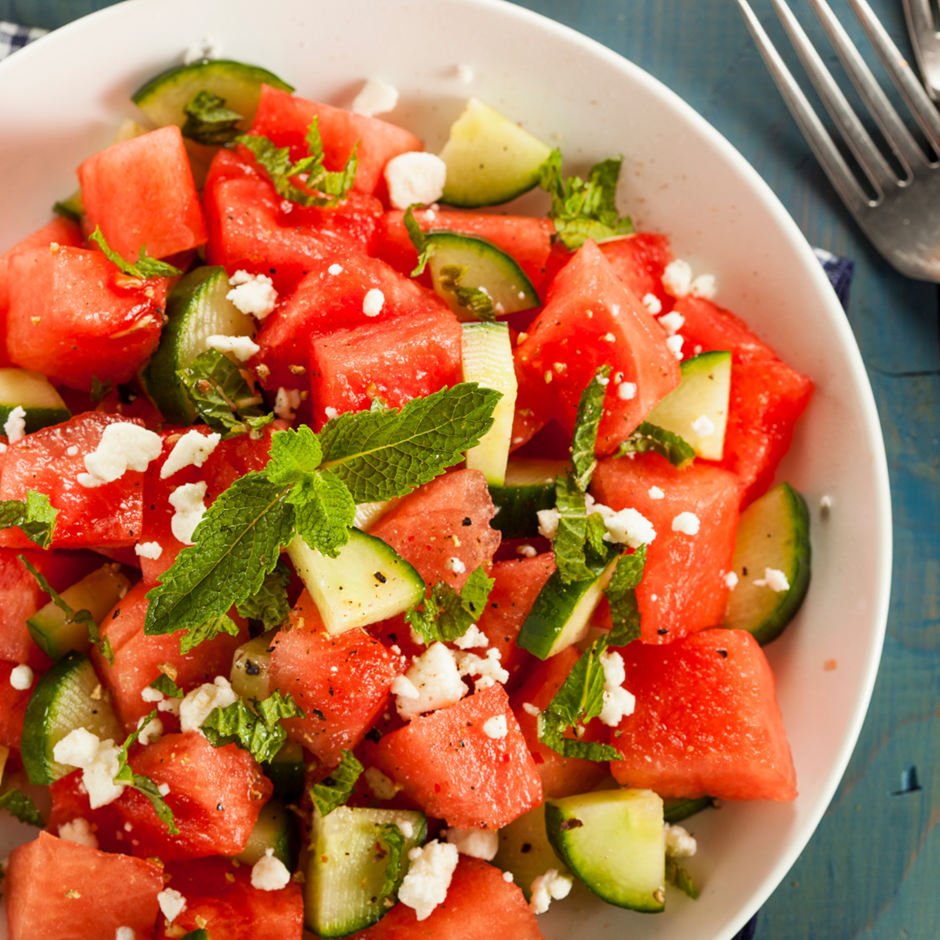 Cobb Salad
An American staple, the Cobb salad has yet to make the same impression in the UK- but we love it! A sure-fire crowd pleaser for any summer occasion, this hearty salad is packed full of tomatoes, bacon, chicken breast, hard boiled eggs and blue cheese, all drizzled with a red wine vinaigrette. The components are neatly arranged onto a bed of romaine lettuce for a colourful and aesthetically pleasing centrepiece to any barbecue or picky tea. Our secret to perfect boiled eggs (we love them slightly sticky in the centre) is our Egg Cooker and Poacher. With room for 6 eggs, this handy kitchen gadget removes the guesswork from boiling eggs, for perfect eggs every time.
Ingredients:
75ml red wine vinegar
1 tbsp Dijon mustard
160ml extra virgin olive oil
Salt and pepper
1 romaine lettuce, coarsely chopped
4 hard boiled eggs, peeled
8 slices bacon, cooked and diced
1 avocado, chopped
130g crumbled stilton cheese
140g cherry tomatoes, halved
2 tbsp chopped chives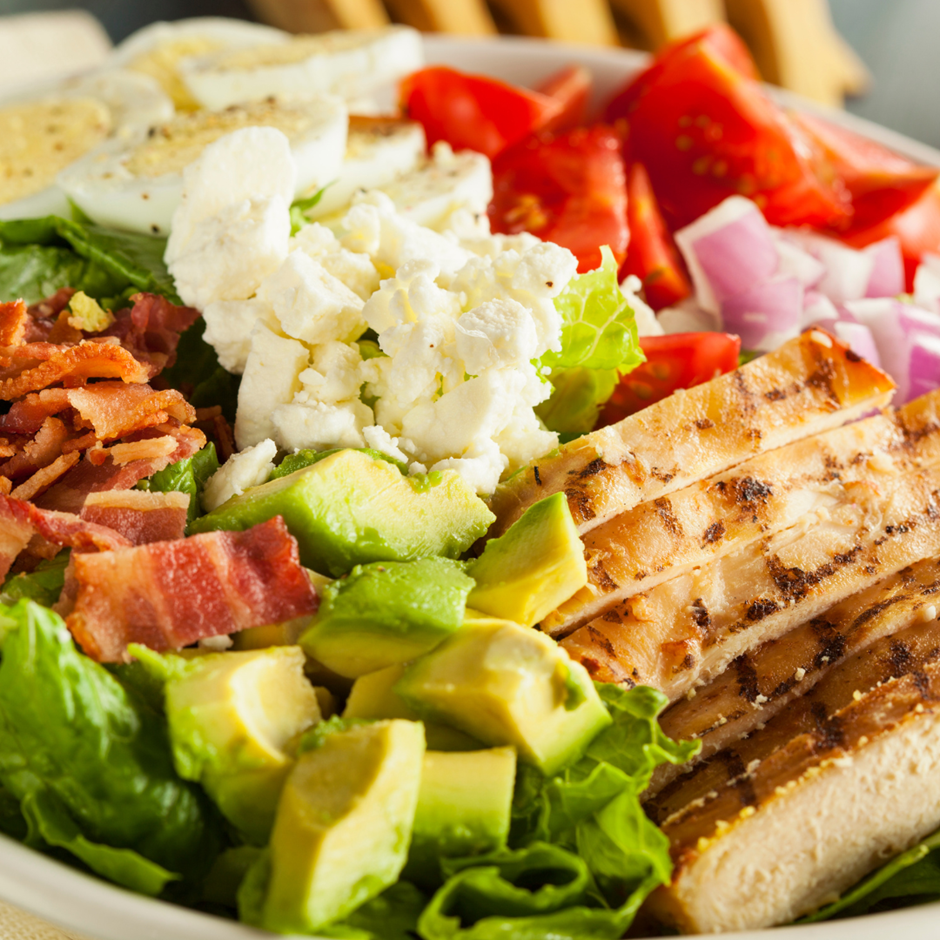 Grilled Peach, Parma Ham and Goats Cheese Salad
Another one for fans of a sweet and salty combo, this grilled peach salad makes a gorgeous summery side for meat dishes and barbeques. Grilled peaches are nestled in a bed of rocket, for an explosion of flavours. We like to grill the peaches on our Cosmos Non-Stick Health Grill until lightly charred, for a sweet, caramelised flavour. Sprinkle with toasted walnuts for some extra crunch and serve up at any summer occasion.
Ingredients:
3 peaches, cut into segments and grilled for a few minutes
100g semi soft goats' cheese
200g bad wild rocket
115g pack parma ham
Handful of walnuts
For the dressing:
3 tbsp extra virgin olive oil
1 tbsp white wine vinegar
Juice of ½ an orange