There is no question that air fryers are hugely popular and have swept the nation; changing the way we cook at home but what is an air fryer and how does it work?
Making healthier food at home is easier, quicker, and now more energy efficient! Knowing where to start on your journey can be a little bit daunting and there is no easy choice on which option you should buy with the increasing amount of technology available.
To help you make this decision on what air fryer would be best for you and your family. Here at Salter, we have put together an ultimate guide to our air fryers and some top tips to help along the way.
What Is An Air Fryer & How Do Air Fryers Work?
An air fryer is a countertop cooking appliance similar to a household convection oven but smaller. Air fryers use rapid air technology to create heat and circulate the hot air to cook food. Because they are much smaller than an oven; all that hot air hits food quickly to circulate the heat more evenly and crisp up your food. Most air fryers come with a cooking tray, rack, or basket and you can cook using little to no oil.
Why Use An Air Fryer
If you are new to air frying here are some of the most common questions we have been asked.
1. What does Sync & Match mean on my air fryer?
Available on our dual air fryers. Hitting the sync button ensures both cooking compartments are ready at the same time no matter what you are cooking. The Match function allows you to copy the cooking time and temperature from one drawer to the other.
2. How much does an air fryer cost to run?
Salter air fryers are much more energy efficient compared to a traditional oven and you can save between 49-71% off energy bills!
3. How do I clean an air fryer?
Once you're done cooking, you can simply remove the cooking drawer or basket, place it in the dishwasher if suitable, or hand wash.
4. How long does it take to cook things in an air fryer?
Most air fryers come with a selection of presets. We suggest starting with these as a guide and then if you prefer your food cooked a little more or a little less crispy you can add or reduce a few more minutes to cook the way you like.
Salter Suggestions = Sausages – approx. 15 minutes, Chicken - approx.30 minutes, Fries – approx. 20 minutes, Salmon – approx.10 minutes, Burgers - approx. 10 minutes.
5. Is using an Air Fryer a healthier way to cook?
Air fryers still need a little oil to cook but way less than what you would use in a pan or an oven, if little to no oil is being added to the dishes you're making in the air fryer, those dishes are just as, if not more, healthy as if you would have baked or fried them.
Which Air Fryer Is Right For Me?
Before you purchase an air fryer there are a few things you need to consider. The most important should be the needs of you and your household.
Are you a family with a busy schedule?
Are you living alone or just with a partner?
Are you looking to save money when cooking large meals?
Do you cook different meals at the same time?
Do you often run out of oven space and need extra help?
If you answered yes to any of these then we might have the perfect solution for you!
4.5 Litre Digital Hot Air Fryer

Short on countertop space and new to air frying?
This compact model comes with 7 pre-set functions, a digital touch display, and a family-sized 4.5L cooking basket.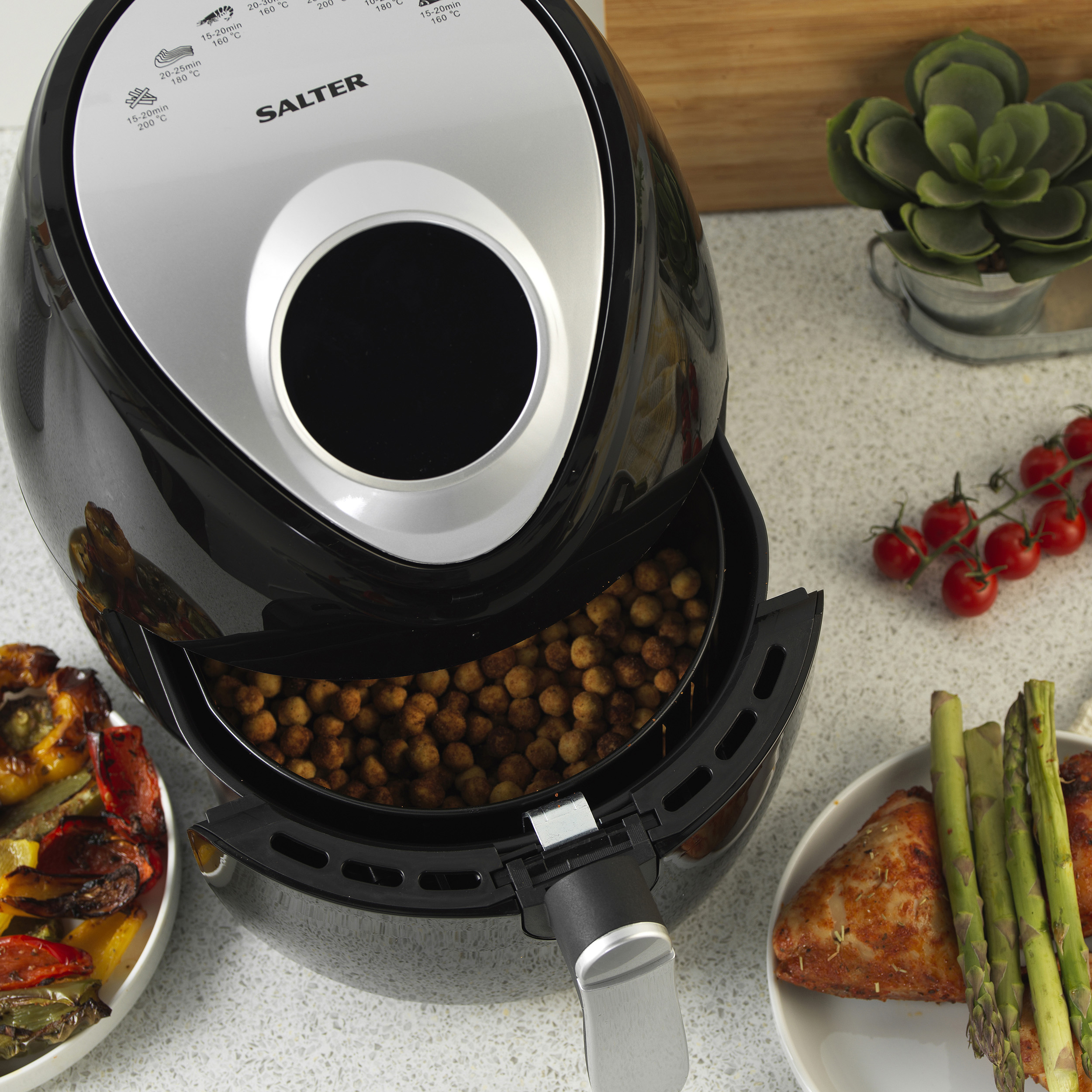 Digital & Manual Air Fryer Ovens
Short on oven space and need to feed the family?
These extra-large 12L air fryers offer multi-level cooking with 12 preset functions including rotisserie, grill, bake and dehydrate.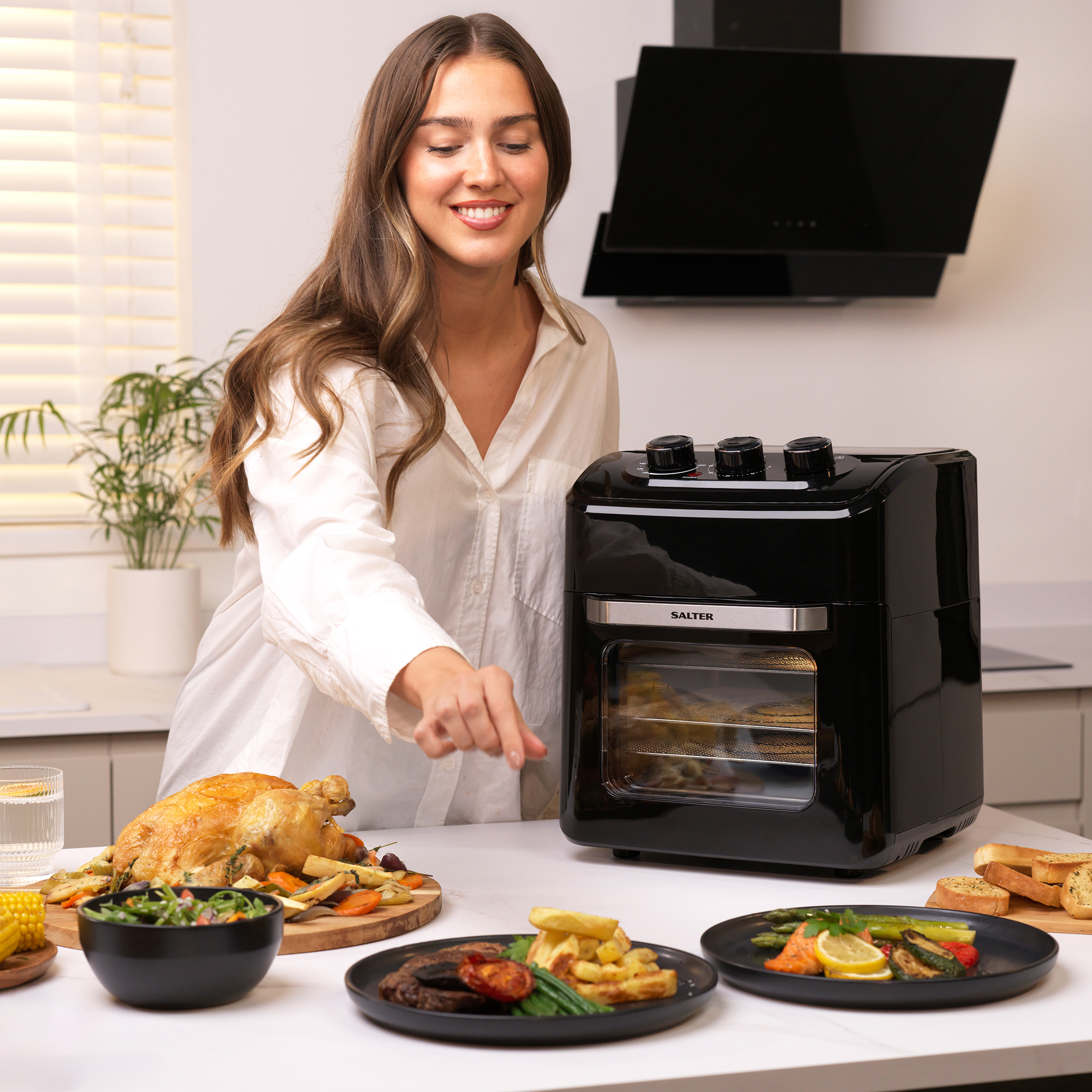 Love to entertain, feed the family, and need extra oven space?
With a 12L capacity and a removable cooking divider to create 2 x 5L compartments. Has 11 pre-set functions and accessories including large & small frying baskets, a drip tray, and a cooking rack.
Need convenient cooking?
Independently cook mains and sides at the same time with 5.5L & 3.5L cooking drawers. Features 8 pre-set cooking functions including SYNC & MATCH.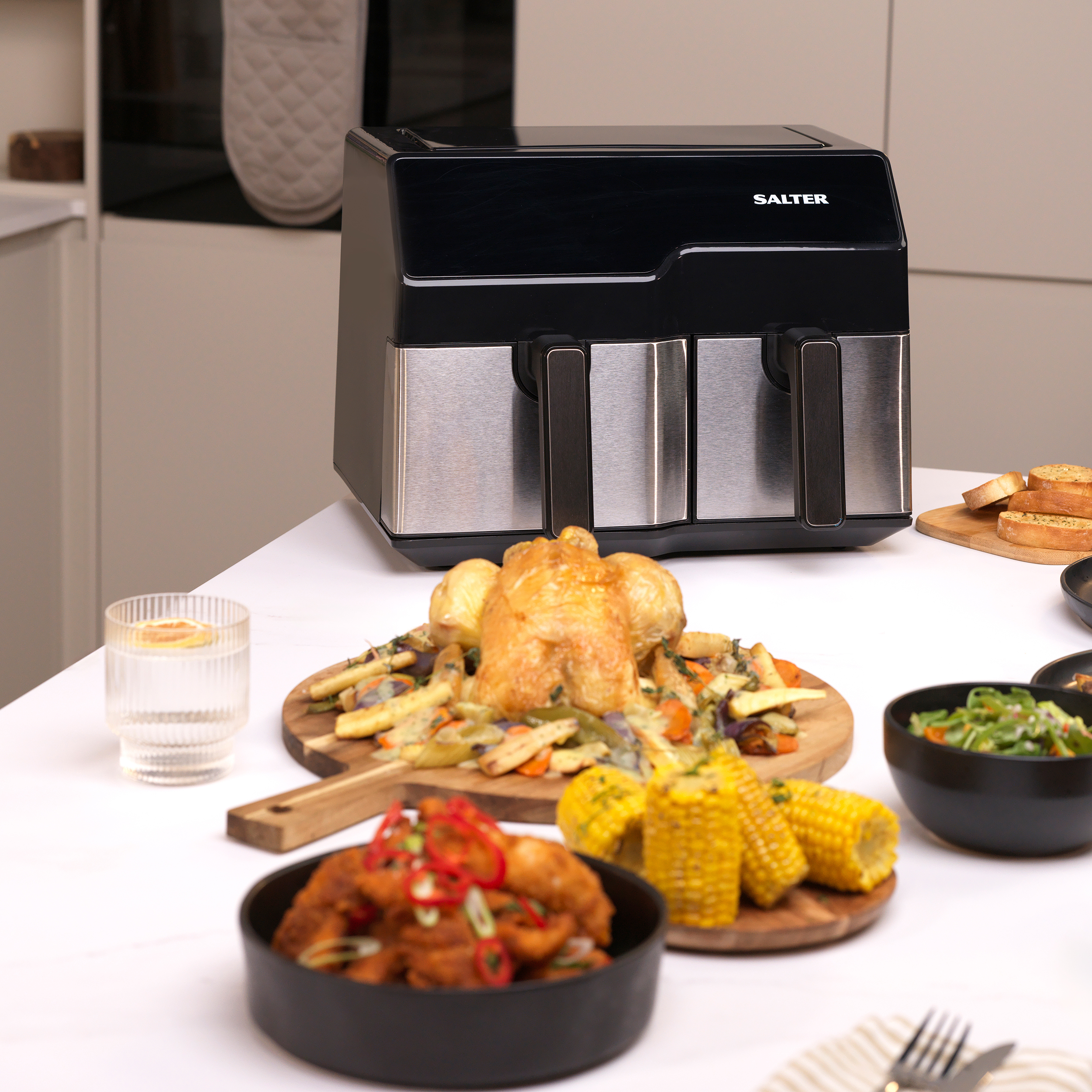 Short on space and want to cook healthier?
Steam and air fry giving 2 appliances in one! This 6.5L multicooker has steamlock technology to lock in moisture, essential vitamins, and nutrients. With 6 cooking functions, a 60-minute timer, a non-stick tray, and adjustable temperature.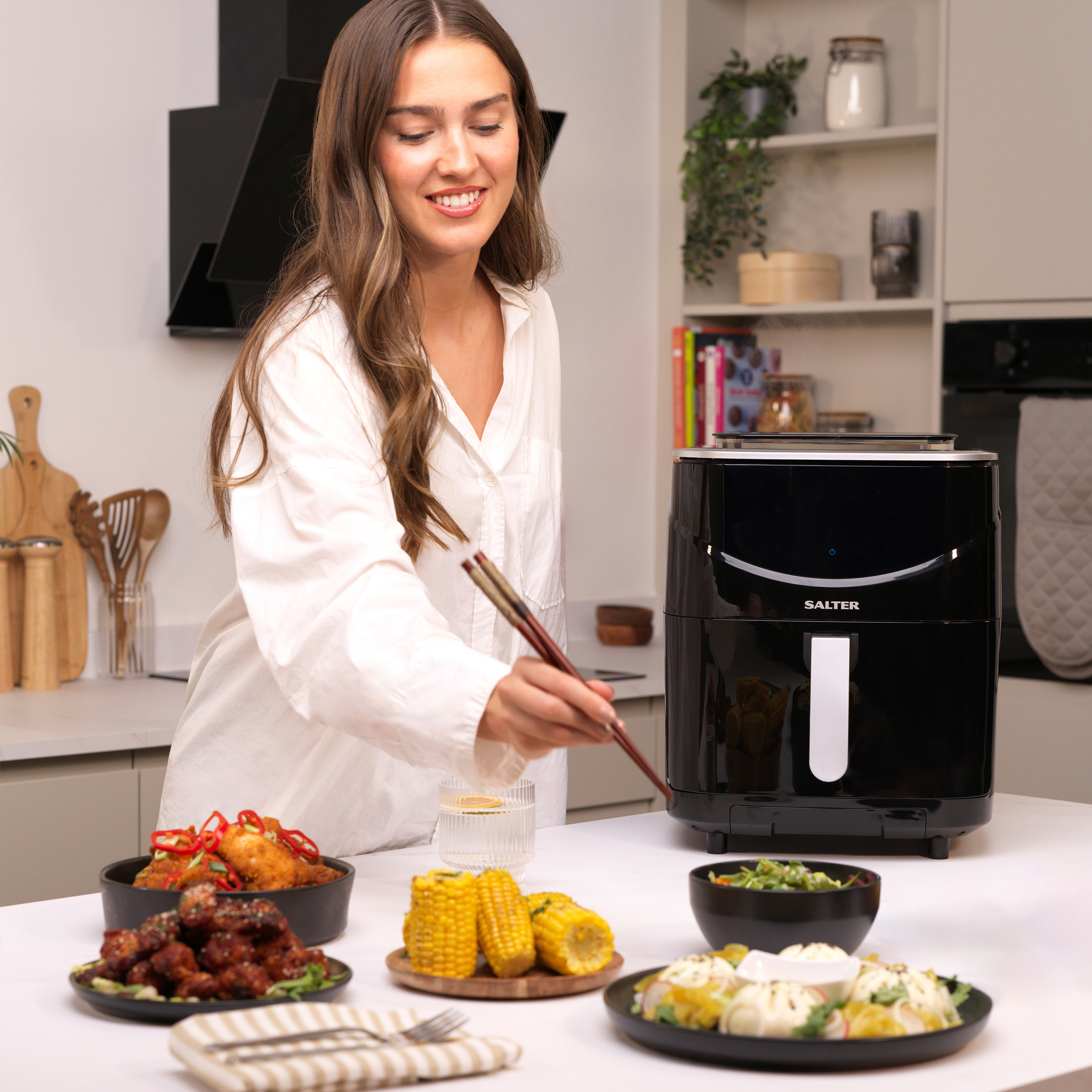 Want an air fryer for everyday cooking?
Includes a removable divider for an XL 8L capacity or use to create 2 x 4L cooking spaces. Has 8 pre-set functions including SYNC & MATCHS, a 60-minute timer, and a viewing window to check on food without opening the drawer.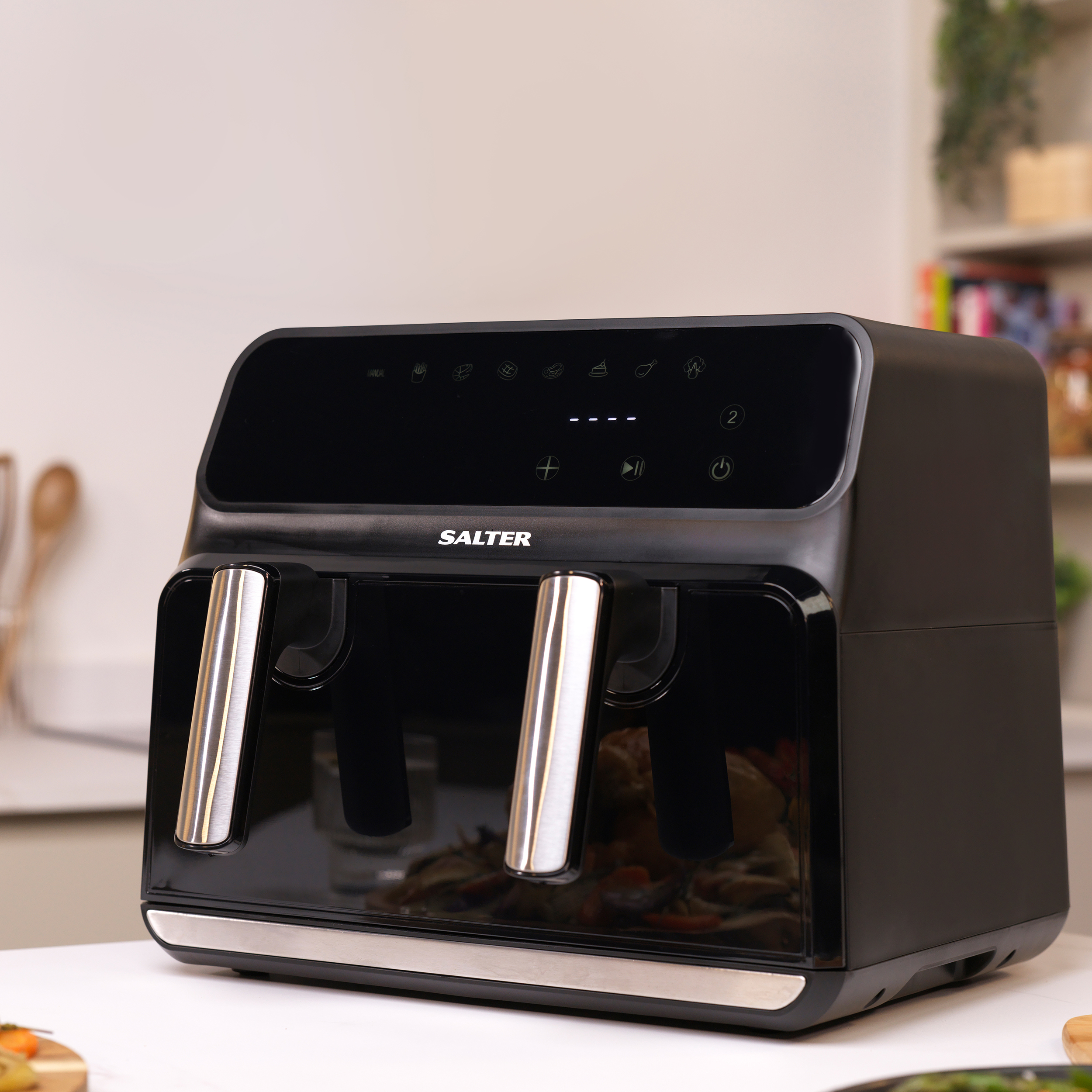 What Can I Cook In An Air Fryer?
Most meals you make in the oven can be cooked in the air fryer. You will be amazed! An entire range of mouth-watering dishes from frozen foods, meat, vegetables, fish, and even cakes and desserts! It's a wonderful way to get dinner on the table fast.
Sizzle up a juicy air fryer steak. Start your Saturday morning with air-fried bacon. Satisfy your sweet tooth by air-frying chocolate chip cookies. Your recipe options are endless! Inspiration is everywhere with air fryer cookbooks now available, and you can also check out our favourite recipes at https://salter.com/air-fryer-recipes/
Quick Tips!
Air fryers are great for reheating food and keeping it crispy perfect for last night's leftovers!
If you are short on oven space, use the air fryer to cook sides when making a roast
Ensure seasonings are fully absorbed when air frying. Mix a little water to create a web rub with your herbs, and spices before cooking
Don't overcrowd the cooking basket! Stick to small cooking batches each time
Flip food or shake the baskets halfway through cooking