Kitchen Thermometers Guide
Things are heating up …
Why should you use a kitchen thermometer? Food thermometers may spring to mind, but there are also other kitchen thermometers that can help you cook that food to perfection time and time again. Whilst your oven has a temperature dial, it's rarely an accurate measurement of the oven temperature. This means that you don't know the temperature your food is cooking at or the temperature of the food itself. The same goes for fridge and freezer temperature, a thermometer can help you make sure your food is at the best temperature to keep it fresh. Checking food with a thermometer is the best way to check you aren't overcooking or undercooking your food, it's quick to use and can save you time in the long run. Undercooking your meat could lead to food poisoning - the last thing you need when cooking for a crowd!
A range of thermometers to choose from makes it easy to find one that suits your needs, so take a look and find the perfect kitchen accessory!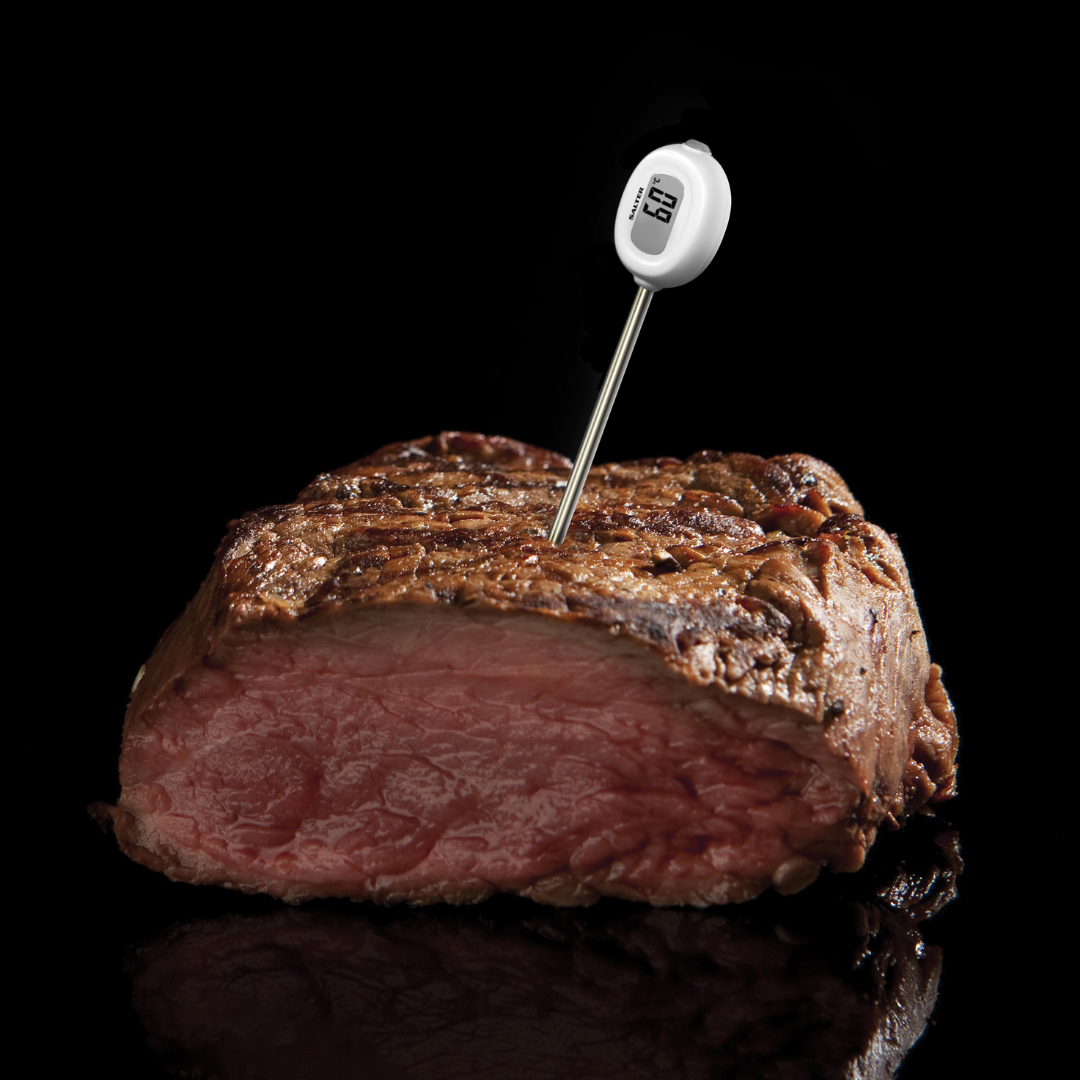 Quick and easy-to-use, this Instant Read Thermometer doesn't mess around. Designed as the go-to for getting fast temperature readings, the device features a stainless steel probe and ABS body that displays the measurements.
This product has 10mm digits so you get the readings at a glance (0.1 ºC graduations) and you simply push the probe into your food of choice to get an instant temperature reading. Featuring a small button at the top to switch it on, this thermometer is simple to use and accurate every time! You can also change the units from Celsius to Fahrenheit using a tiny switch on the back. A great little gadget for helping you cook food to perfection.
Temperature range: -20°C to 200°C
Uses: Meat, BBQ, Jam making, Confectionery and more!
Nifty feature: It's quick and instant!
Price: £23.99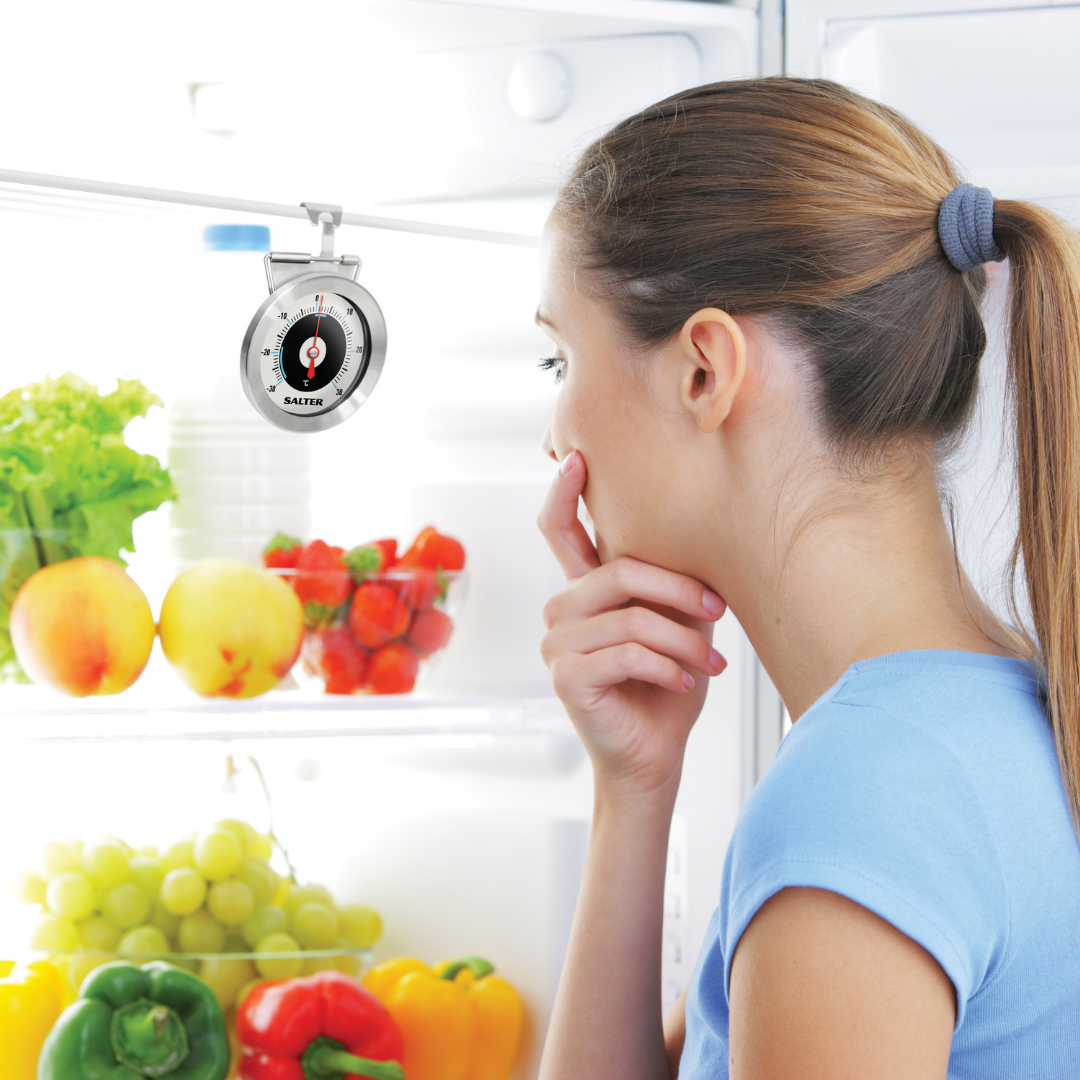 Designed with 'safe zones' so you can see the correct temperature your fridge or freezer should be, this Fridge Thermometer is the ideal solution for ensuring your food stays fresh.
Featuring a bold display and stainless steel body, the thermometer is easy-to-read and has a built-in stand so you can place it on the fridge shelf, or hang it! Quality design and accurate readings, this fridge gadget is a must-have for optimum food temperatures.
Temperature range: -30°C to 30°C
Uses: Monitors temperature in fridge
Nifty feature: 'safe zones' to help keep food fresh
Price: £19.99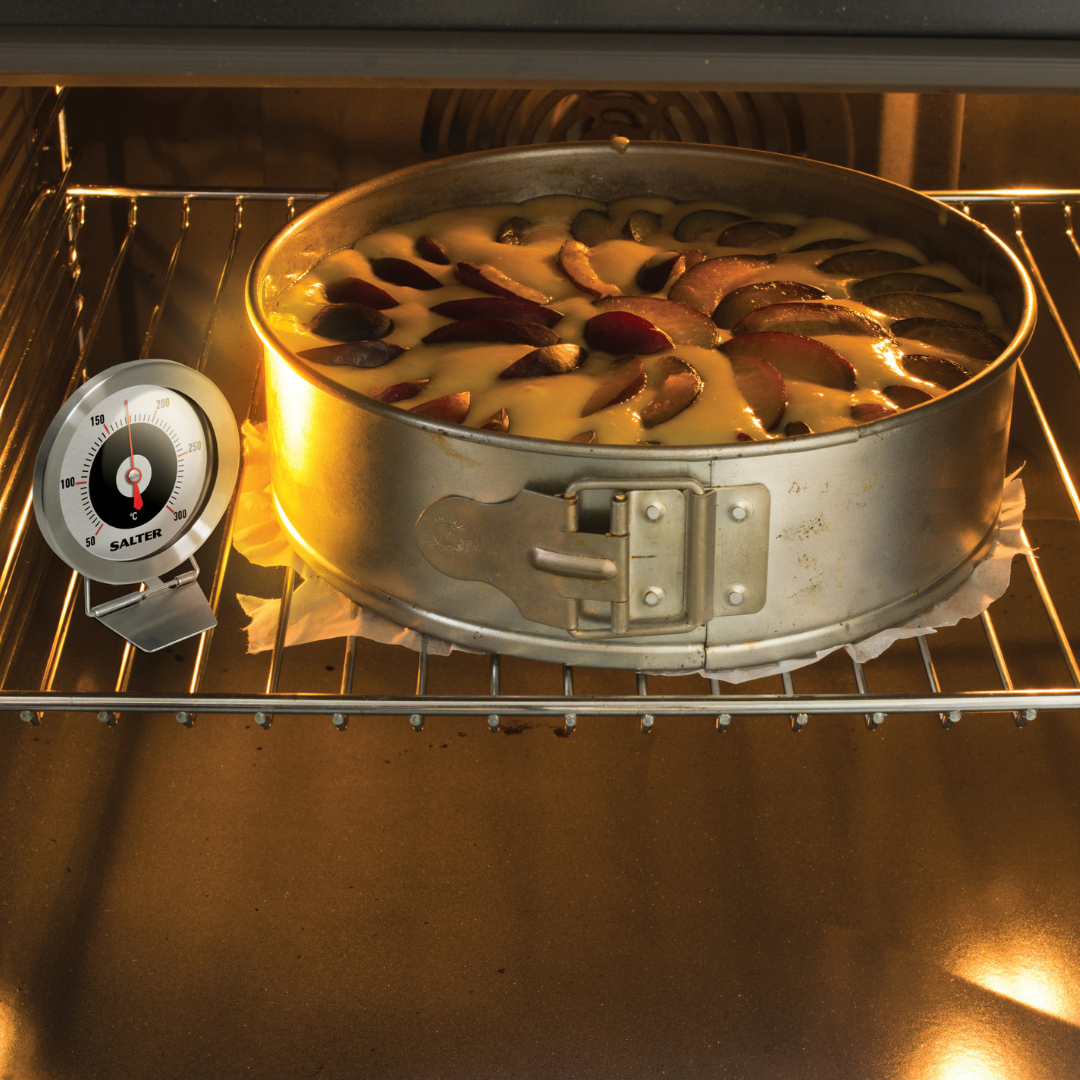 It is widely recognised that oven settings do not indicate accurate oven temperature – that's where this Oven Thermometer comes in handy!
Designed with a bold display and glass lens, you can clearly see the device without opening the oven door. The thermometer stand is adjustable, so you can hang, sit or stand it for easy viewing and the bi-metal sensor detects temperature accurately to let you know exactly how hot your dish is cooking at.
Make sure your oven is at the right temperature with a quality product that won't let you down.
Temperature range: 50°C to 300°C
Uses: Monitors oven temperature
Nifty feature: adjustable viewing angle
Price: £14.99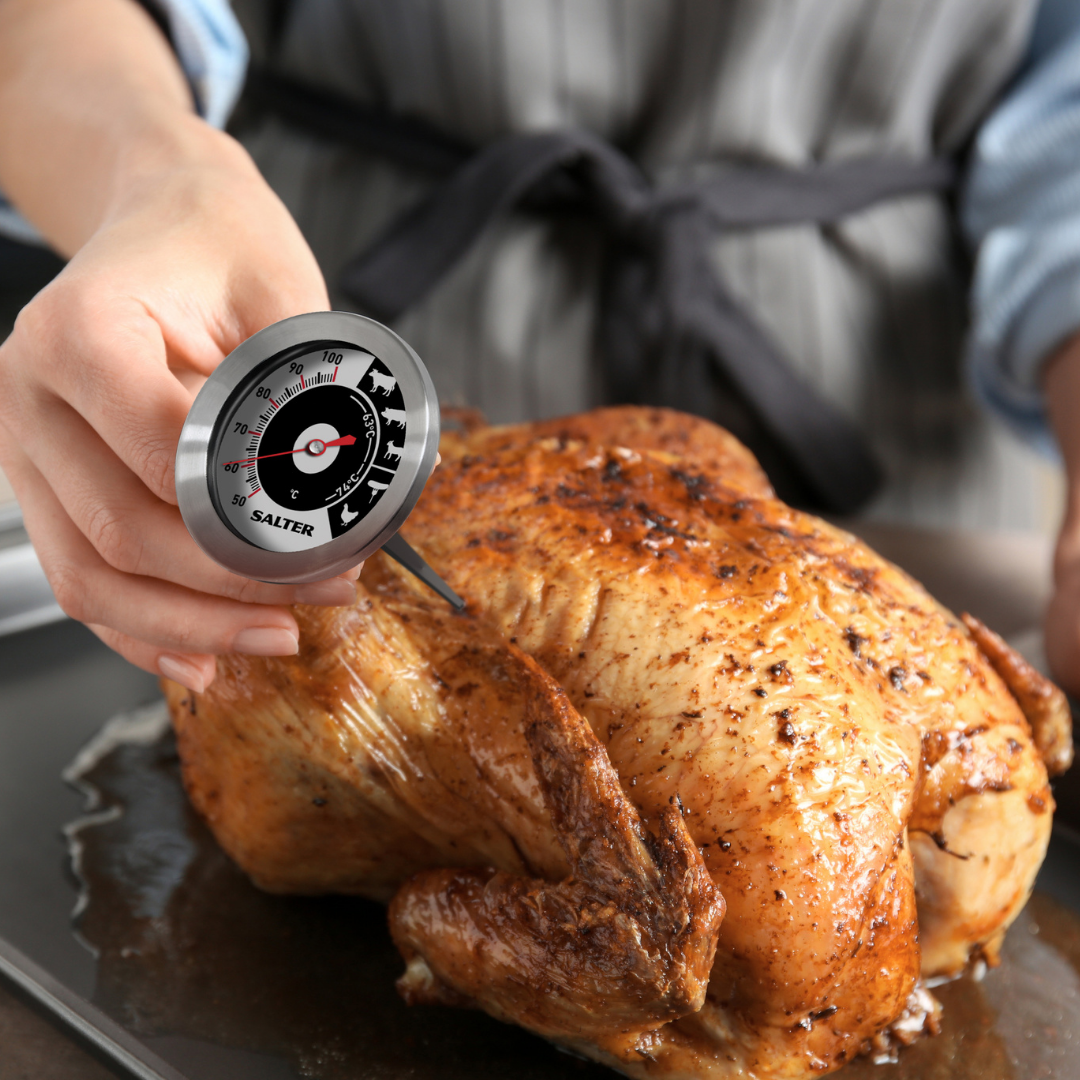 This Meat Thermometer helps you get the perfect temperature for your roast without hassle. Simply place the probe into your chosen meat and then place it in the oven. The bold display is easy-to-read and you can clearly see when your dish has reached the correct temperature.
The thermometer also features meat icons reflecting USDA (United States Department of Agriculture) recommended temperatures so you get an indication of the guidelines.
Temperature range: 50°C to 100°C
Uses: Beef/veal, sausages, lamb, pork/ham, poultry
Nifty feature: USDA icons for helpful temperatures
Price: £14.99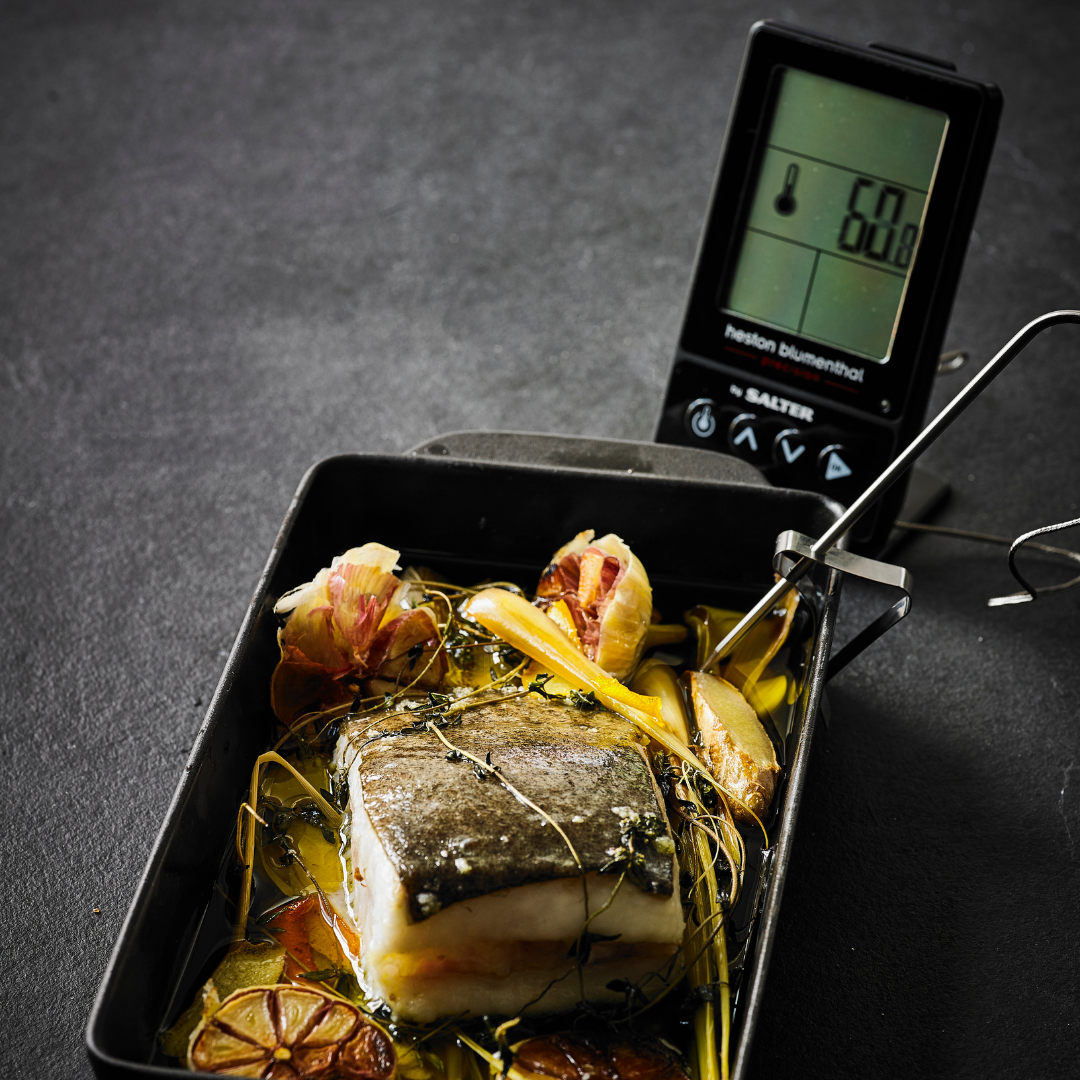 Designed by Salter and the Michelin starred chef Heston Blumenthal, this 5-in-1 Digital Kitchen Thermometer is great for the home cook or professional chef. Equipped with pre-programmed settings for roasting, BBQ food, deep frying, and confectionery, this device also lets you input manual timings to suit your preferences!
Measuring up to 5x faster than its counterparts, the 5-in-1 cooking thermometer features an 'intelligent roasting feature', which measures the food temperature and oven temperature separately before calculating the finish time of your dish! The thermometer senses any fluctuation in temperature and adjusts its finish time accordingly to get the best results. The device beeps when it has reached its finish time so you know when your food's ready.
The thermometer also comes with a pan clip for use with confectionery.
Temperature range: -45°C to 200°C
Uses: Roasting, BBQ, Deep frying, Confectionery and Manual timings! (also great for grilling and jam making)
Nifty feature: Intelligent roasting feature
Price: £69.99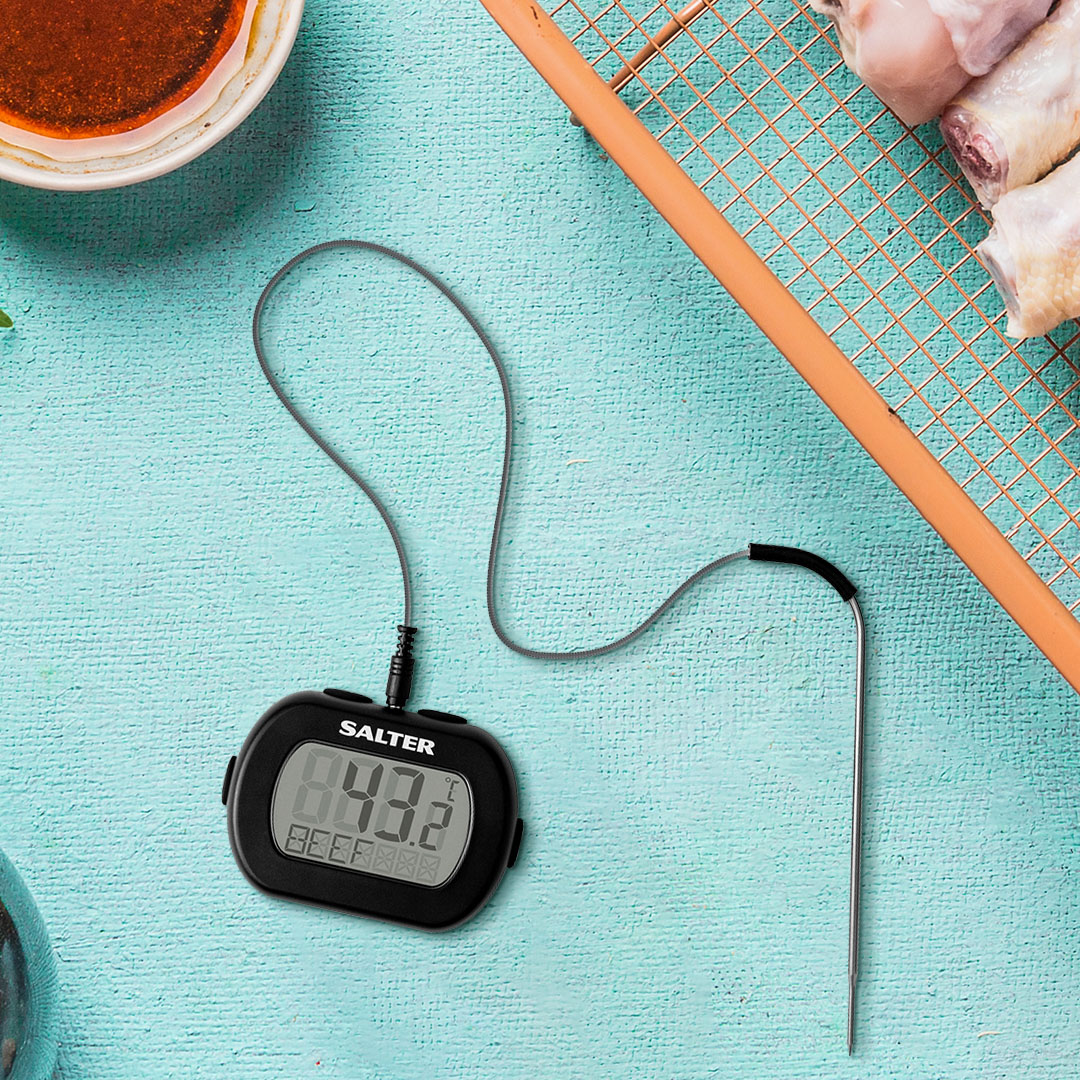 The Leave-In Digital Kitchen Thermometer, with super-precise 0.1°C/ 0.1°F graduations and a hard-wearing stainless-steel probe, this thermometer is ideal for ensuring your food is cooked to perfection.
Roast and cook meat to exactly the right temperature with the Salter thermometer. Use it for roasting, barbecuing food, deep-frying, casseroles and manual timing. Select the type of meat you're cooking, or fish, and the display shows you the correct temperature inside for safer cooking and better, more succulent results with no over-cooking.
If you're looking for your food to reach a specific temperature, like when tempering chocolate, you can pre-set the target temperature before you begin cooking so you're able to perfect your cooking times.
Temperature range: -20°C to 250°C
Uses: Roasting, BBQ, Deep frying and Confectionery ! (also great for grilling and jam making)
Nifty feature: Pre-programmed set cooking temperatures
Price: £34.99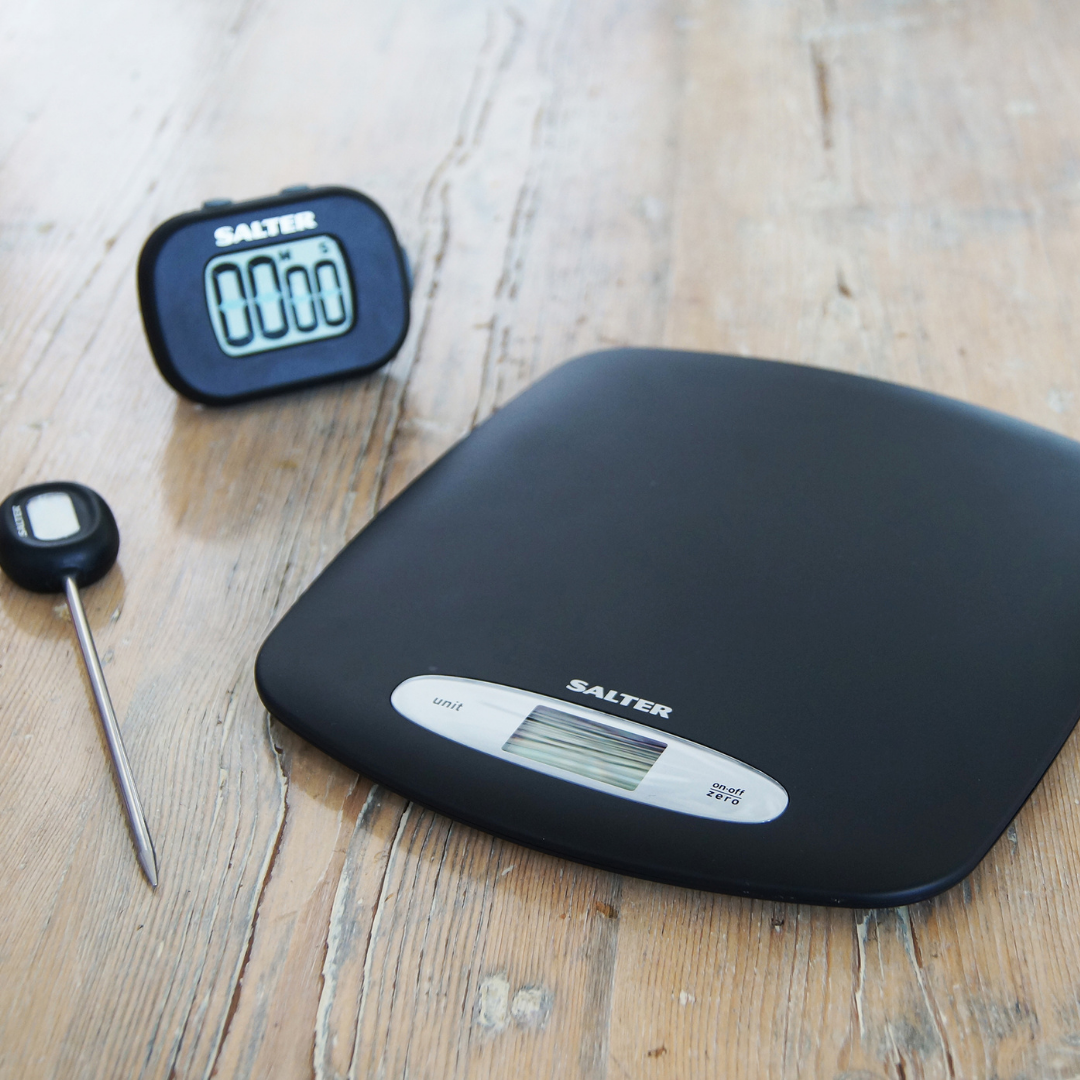 This instant read thermometer is unique in that it's only available in our Kitchen Gift Set! Teamed with our matching kitchen scale and thermometer, this cooking thermometer has a variety of uses and gives you super quick readings.
The product has 10mm digits on a clear LCD so you can read measurements at a glance and a stainless steel probe for easy cleaning. A great gift for anybody starting out in the kitchen or the experienced bakers, you can't go wrong with a decent food thermometer!
Temperature range: -20°C to 200°C
Uses: Meat, BBQ, Jam making, Confectionery and more!
Nifty feature: it comes with a matching gift set (if that counts?)
Price: £39.99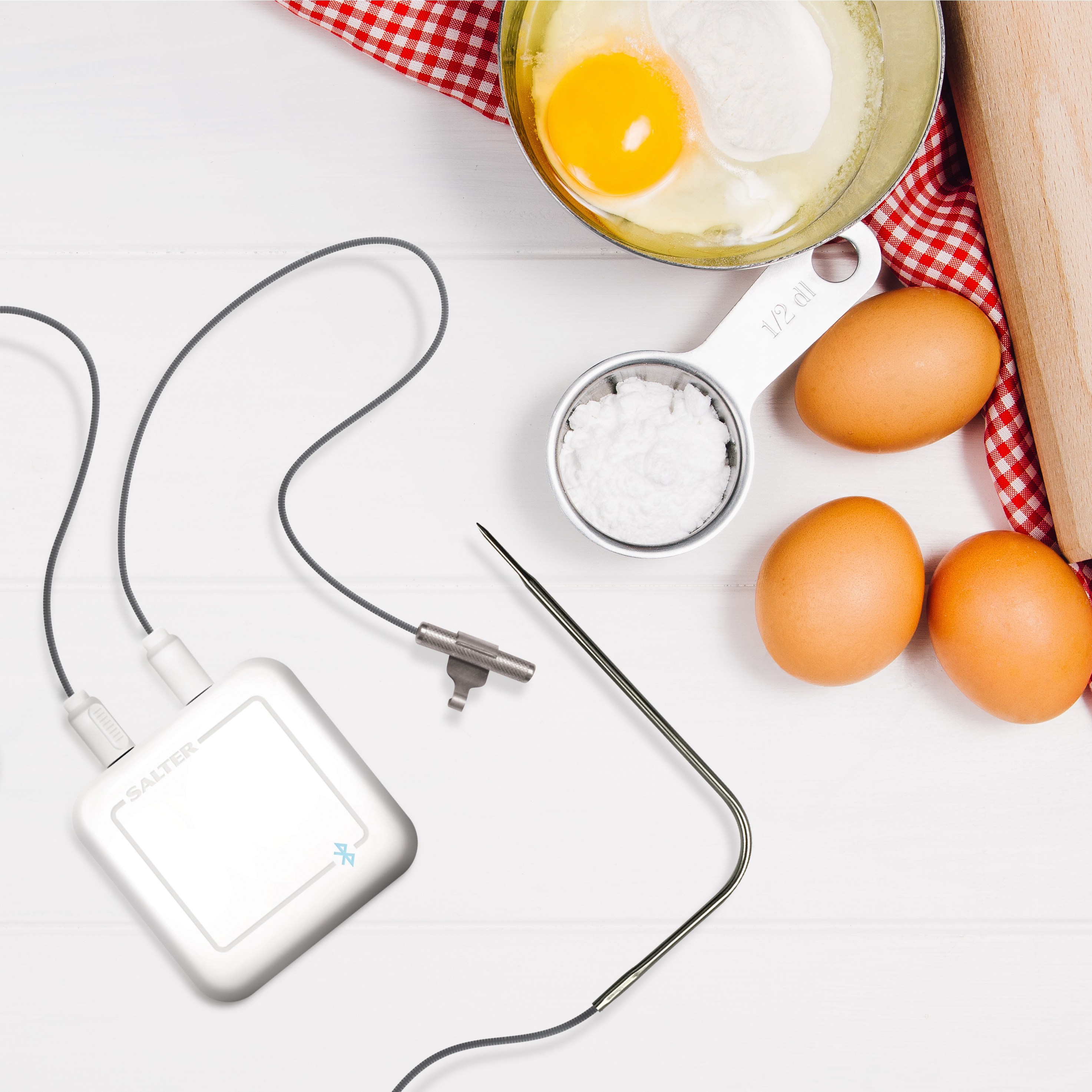 Free to download from the App store or Google Play, the Salter Cook app connects to our Bluetooth Thermometer that you can use straight from your smartphone or tablet!
The Salter Cook Thermometer is made up of an ABS body and a stainless steel probe. This innovative gadget doesn't have an LCD, because it uses Bluetooth to connect to the Salter Cook app, where you can monitor the temperature from your smartphone or tablet. Watch temperature rise on your device whilst the thermometer does its thing.
Equipped with two probes, you can measure oven temperature AND food temperature so you've got all bases covered. Designed with a magnetic back, you can pop the device on the side of the oven or magnetic surface while measure temperature.
Temperature range: -20°C to 250°C
Uses: Meat, BBQ, Jam making, Confectionery and more!
Nifty feature: two probes, one for your oven and one for food
Price: £49.99 (but the app is free!)