Kitchen Timers Guide
It's about Time(rs)
Thinking about buying a new kitchen timer? You've come to the right place.
Whilst some may use their phones, many home cooks will still agree a kitchen timer is an essential tool. From saving your sponges from burning and helping you stay on top of your Sunday Roast, our timers are easy to use and are loud enough you can hear no matter where you are in the house - and it won't matter if they get covered in flour or batter unlike your phone. Presenting a variety of different features and uses, these timers all make sure you know when your food is cooked and we're sure you'll find one that suits you.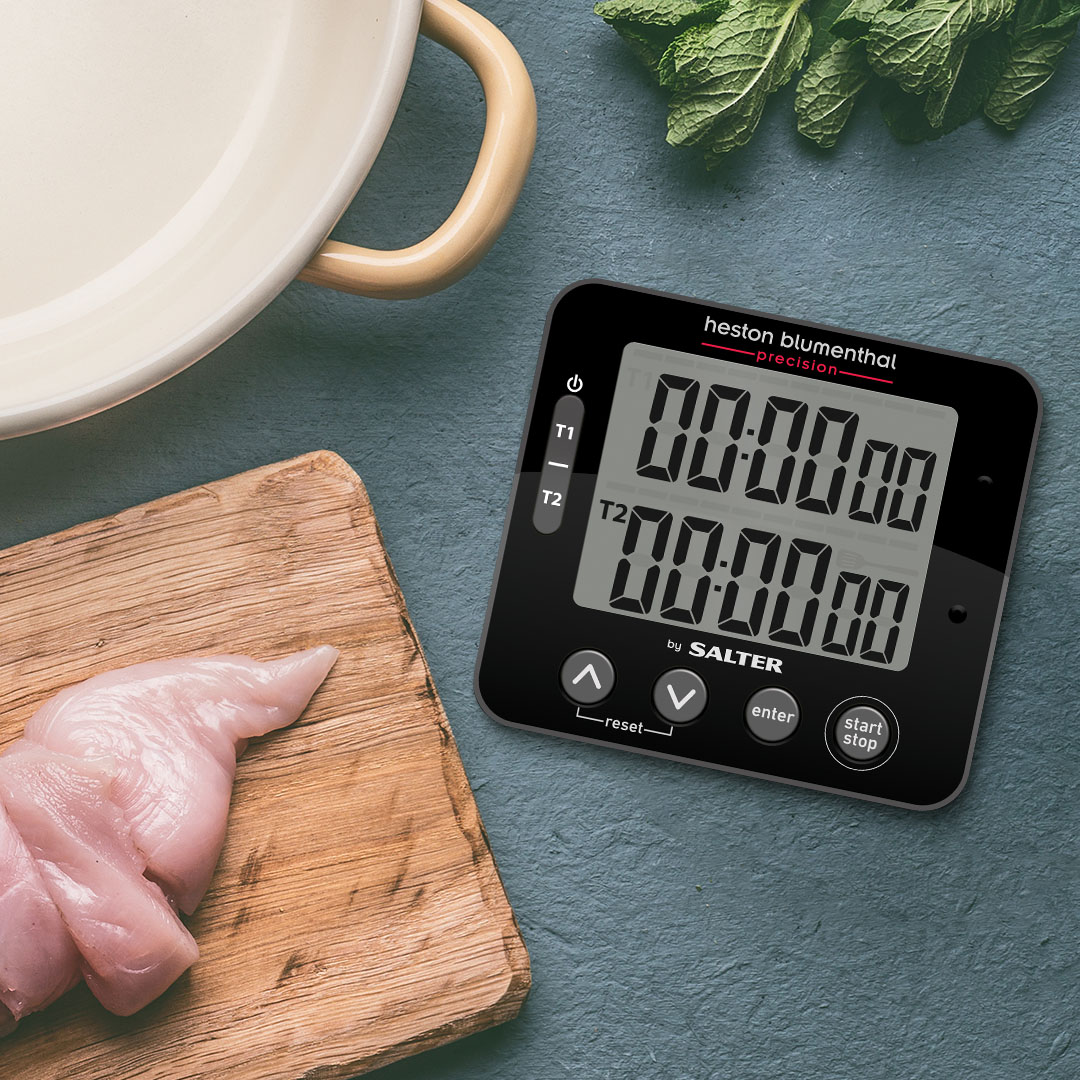 Designed by Salter and Heston Blumenthal, this Dual timer features an animated progress display where you can run two timers simultaneously! Each timer can run for up to 99 hours 59 minutes and 59 seconds – so slow cooking won't be a problem.
This timer also includes Heston's turn reminder, which sounds every 20 seconds to remind you to flip your burger – Heston's recommended technique for cooking meat to perfection.
Designed with a magnetic back, you can pop the timer on the oven or fridge to keep track of timings, or use the built-in stand to position it on the kitchen surface.
Equipped with a count-up and memory function (remembers your frequently used timings), this timer is packed with features to tackle your counting conundrums. With so many features, it's a little more complex than your standard start/stop timer, but it's definitely worth getting to grips with to reap the rewards of that perfectly seared meat!
Beeper loudness – 5/5
Magnetic hold – yes
Ease of use – 4/5
Nifty feature – 20 second turn reminder (helps you cook the perfect steak)
Price: £19.99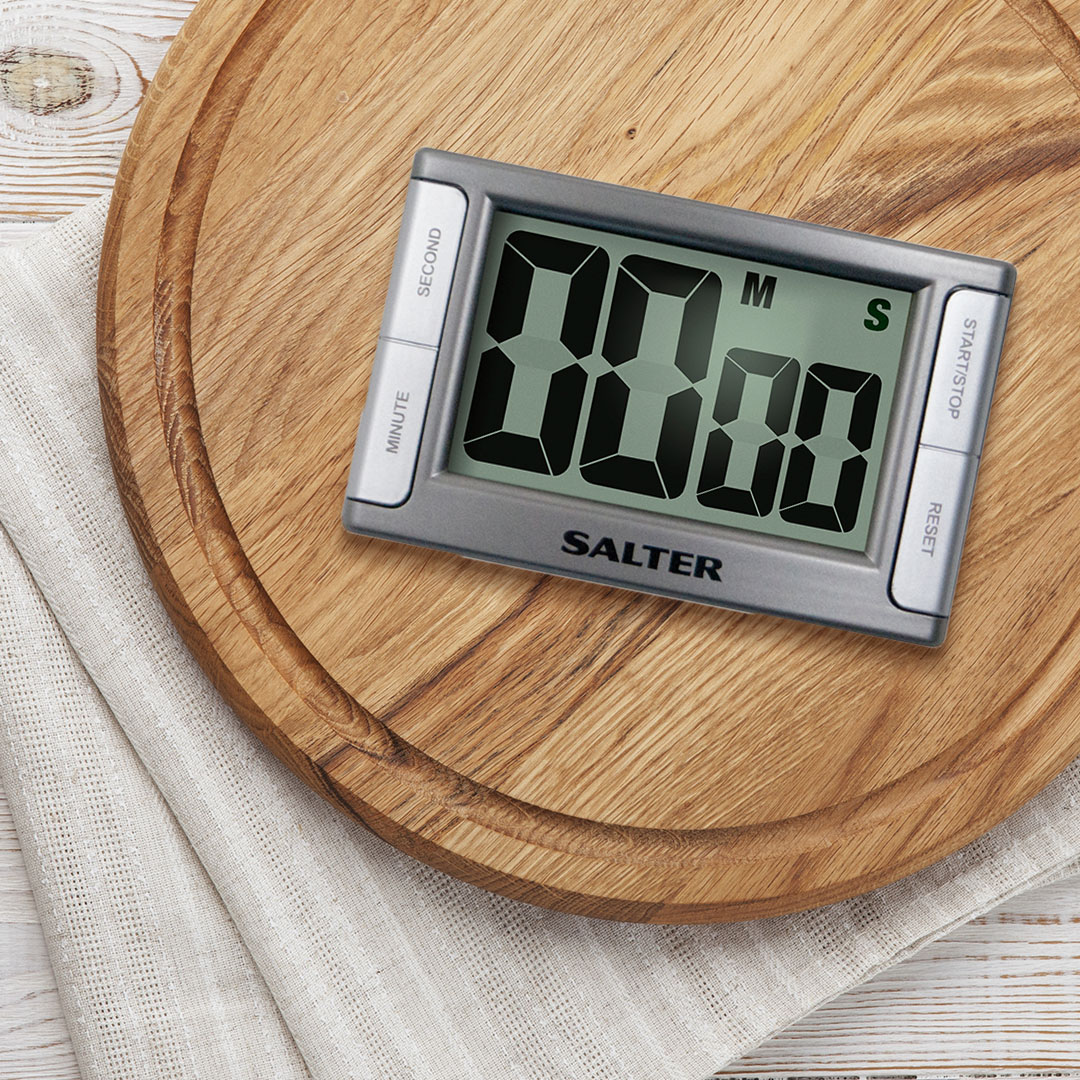 The Salter Contour Timer is lightweight, clear and user-friendly. Designed with a curved front, this timer looks sleeker than its competitors, but still makes it easy for users to operate.
Four long side buttons show you how to use the device, which can time up to 99 minutes and 59 seconds and the large LCD provides timings you could read from the other side of the room! Perfect if you're looking for a device that's easy-to-read and looks stylish in the kitchen.
This slick bit of kit has a magnetic back to help it stay put on the oven and a free-standing mechanism so you can pop it wherever suits you. Countdown and memory functions complete the standard features you expect from a Salter timer with a modern design to finish it off.
Beeper loudness – 5/5
Magnetic hold – yes
Ease of use – 5/5
Nifty feature – Curved design looks sleek on the kitchen counter
Price: £12.99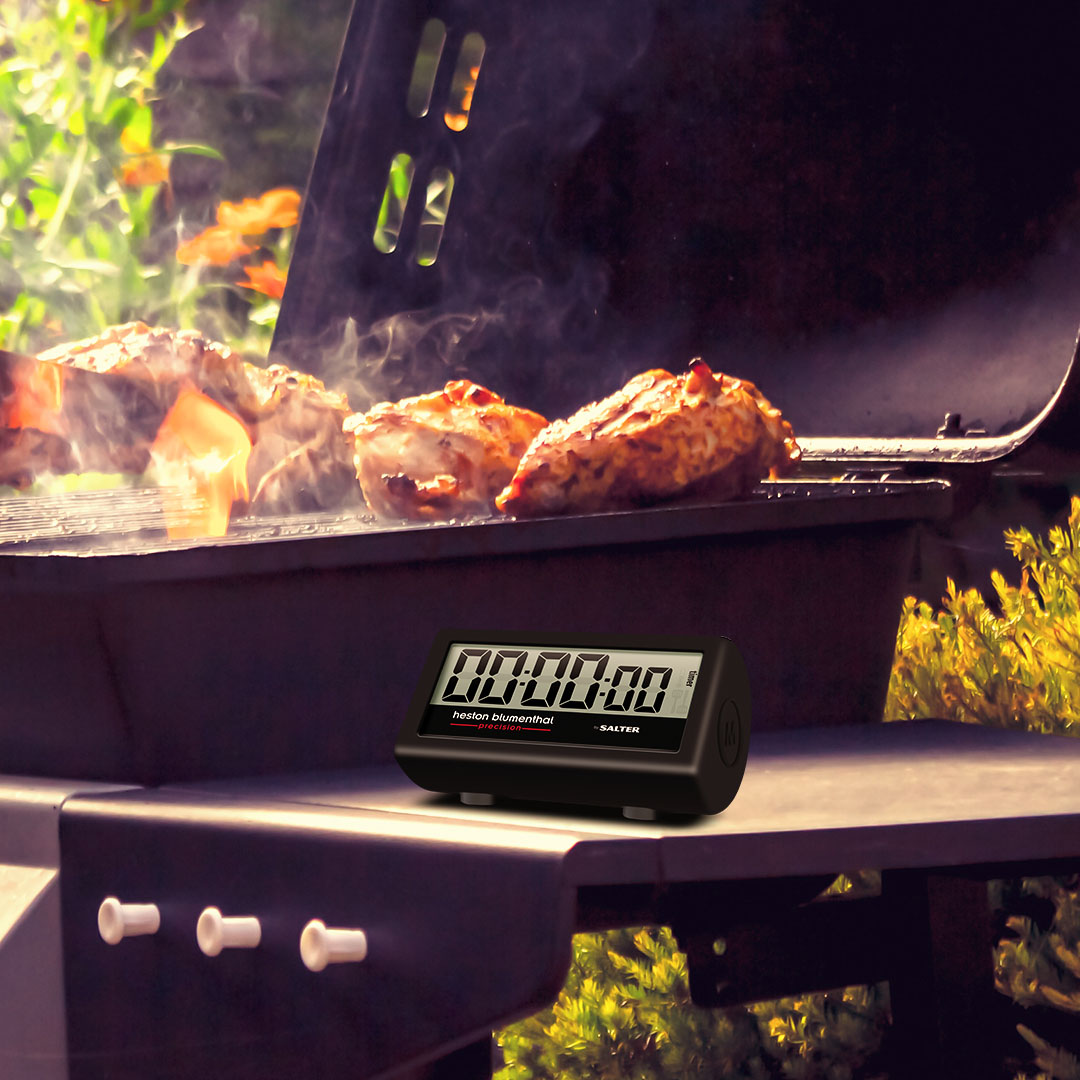 Designed by Salter and Heston Blumenthal, the Precision Indoor + Outdoor Kitchen Timer is perfect for any cooking environment.
With a durable silicone casing this timer the ideal companion to a hot summers day around the BBQ and is equally reliable when rain arrives. The durable and weather resistant silicone casing means this timer can see you through a variety of meals, whatever the weather.
With a loud alarm, you will be able to hear when your food is ready even if you've just popped into a different room.
Beeper loudness – 5/5
Ease of use – 4/5
Nifty feature – Water resistant - perfect for the unpredictable British BBQ weather
Price: £19.99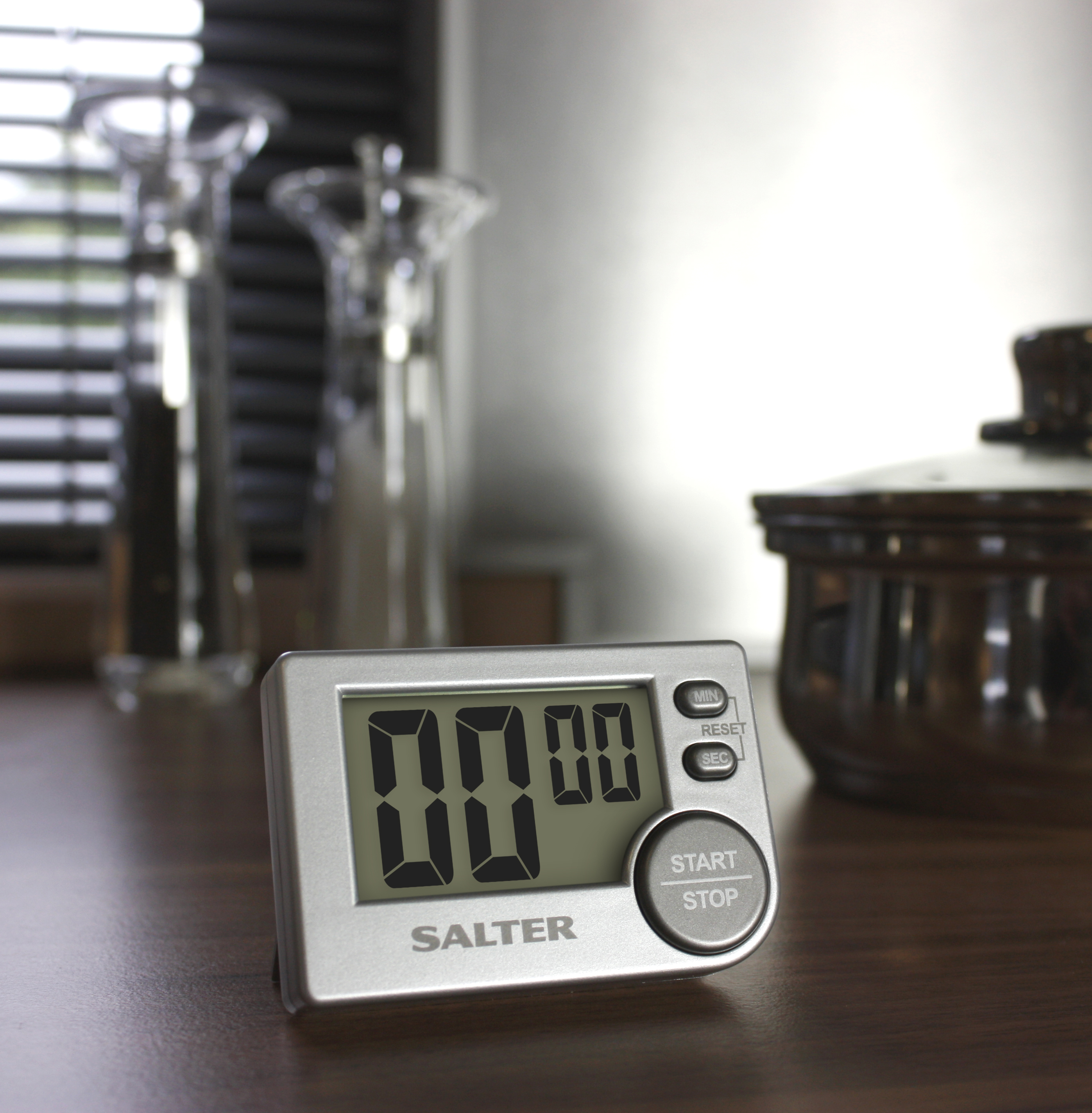 The Salter Big Button Timer is a favourite for those that want to keep it simple.
Equipped with a 99 minute and 59 second limit, this device is a little smaller than most kitchen timers, but perfect for your standard timer uses. It also has a count-up feature and memory function to make things that little bit easier.
Magnetic and self-standing, it can fit anywhere in the kitchen and the clear LCD helps you read the timings with ease. The design makes it simple to use and the curved side features a huge 'start/stop' button that's hard to miss! It's user-friendly and an eye-catching bit of kit.
Beeper loudness – 4/5
Magnetic hold – yes
Ease of use – 5/5
Nifty feature – You guessed it … the big button!
Price: £19.99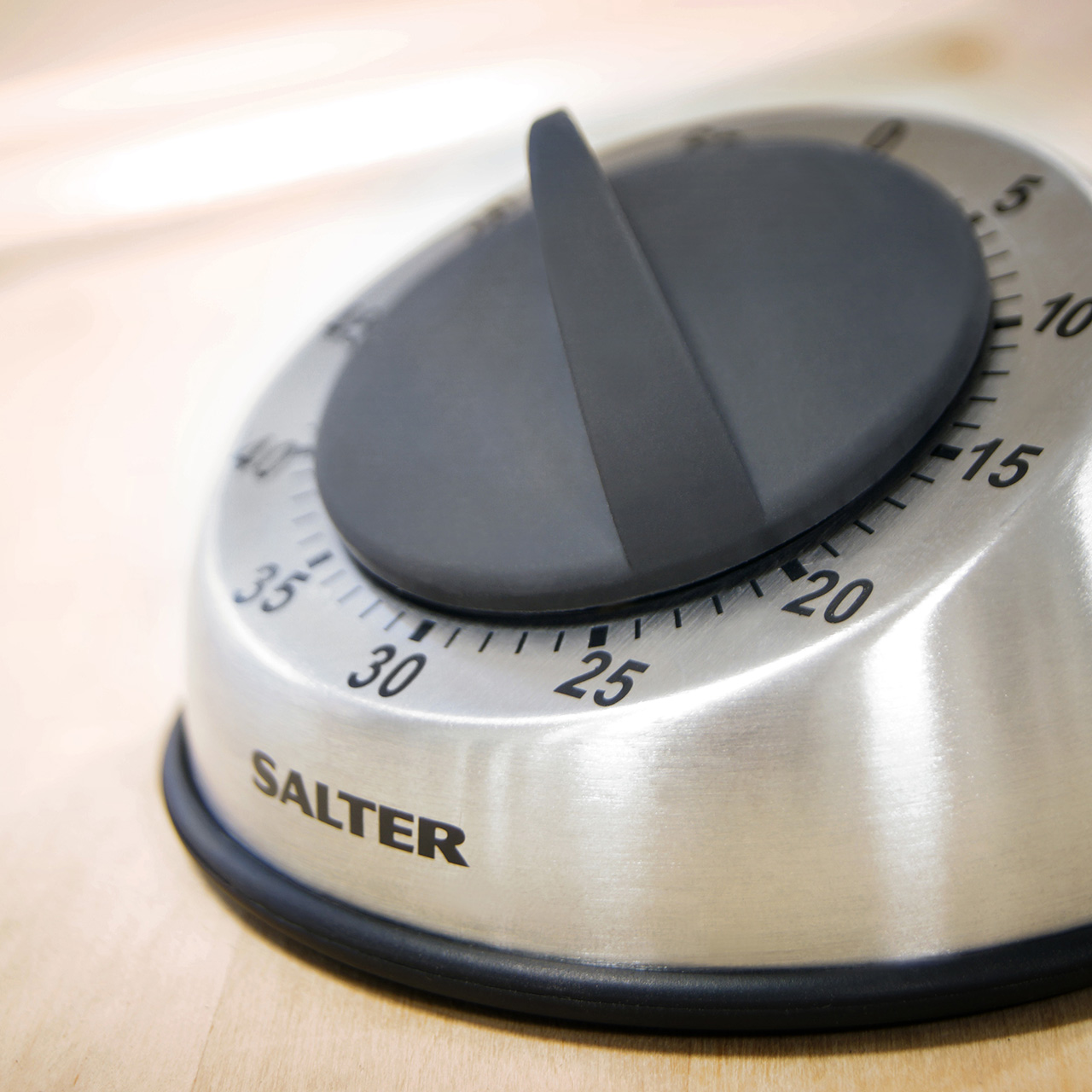 This old school Mechanical Timer is the largest one Salter do and features a manual dial to set timings of up to 60 minutes.
The device is designed with an easy-grip dial made from soft-touch rubber to set times quickly. It also has a brushed stainless steel base with foam feet so it sits neatly on the kitchen counter and clearly marked timings for easy reading. Once you have set the timer, the ticking lets you know its set and the bell will ring for 15 seconds when it reaches zero – no chance of missing that!
Beeper loudness – 5/5
Magnetic hold – No
Ease of use – 5/5
Nifty feature – Timer rings for 15 seconds!
Price: £19.99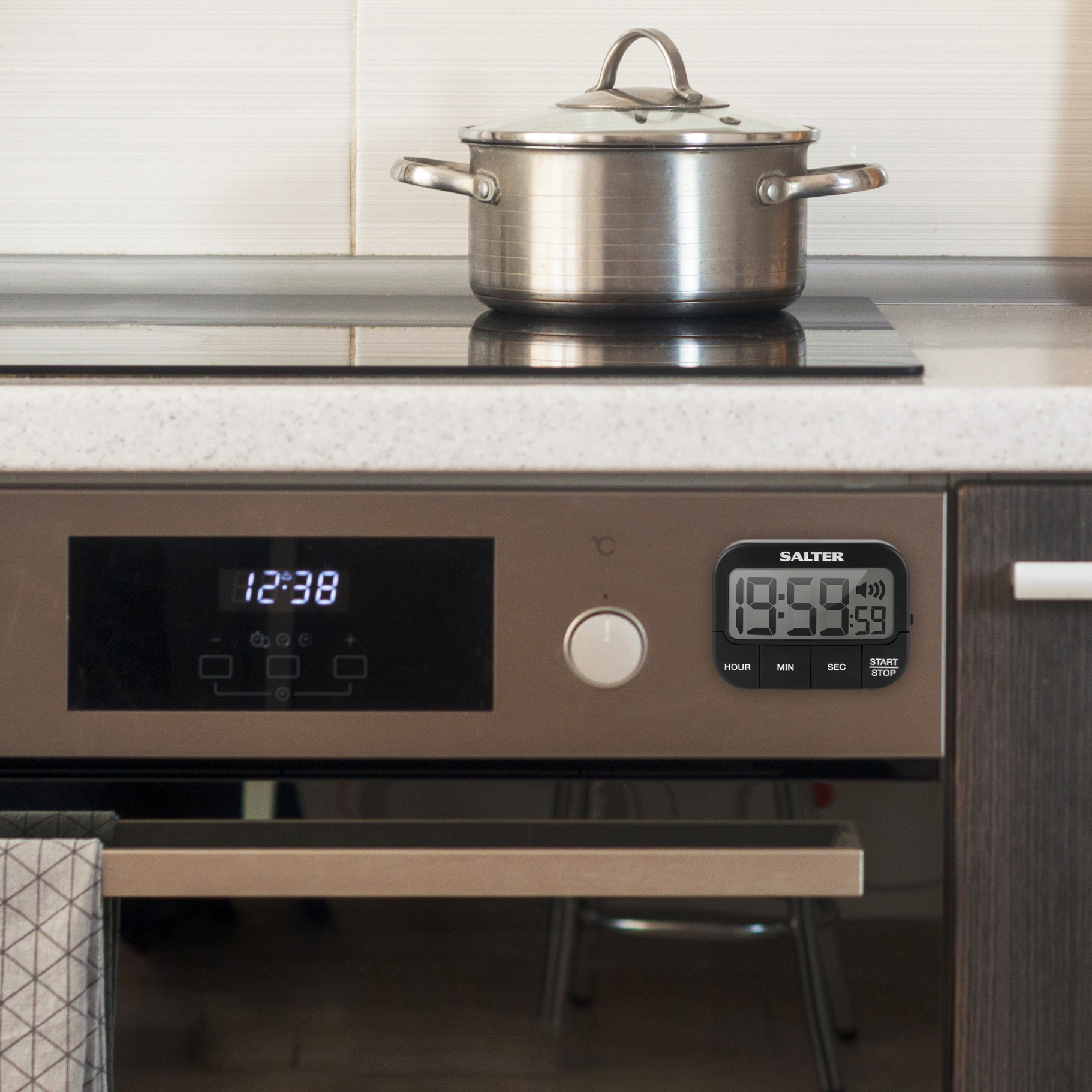 With a large easy to ready display and a loud beeper with 3 adjustable levels, the Salter Loud Kitchen Timer will make sure even daunting cooking marathons, like Christmas dinner, will run like clockwork.
Compact enought to be popped onto the worktop or stuck on the fridge this kitchen timer can be set for up to 19 hours, 59 minutes and 59 seconds. Simply place your dish in the oven and you are good to go!
The memory function recalls frequently used times for quick go-to timings and the magnetic back provides a strong hold wherever you pop it. The built-in self-standing mechanism is easy to adjust, so you can alter the angle of the timer for a better view so you can watch you countdown easily.
Beeper loudness – 5/5
Magnetic hold – yes
Ease of use – 5/5
Nifty feature – loud adjustable beeper!
Price: £19.99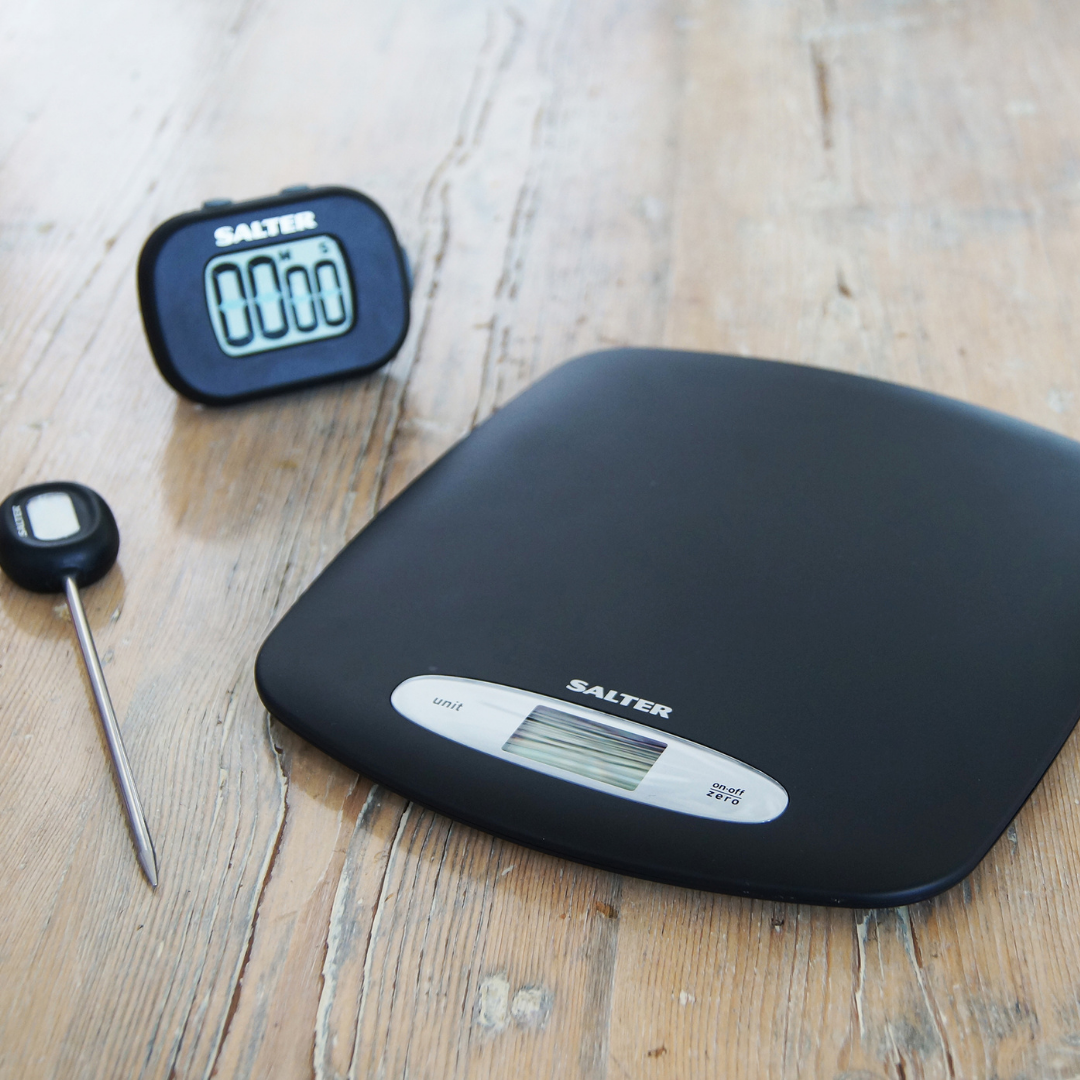 This oval shaped timer is unique in that it's only available within our Kitchen Gift Set! Teamed with our matching kitchen scale and thermometer, the unit times up to 99 minutes and 59 seconds and features count-up and memory functions too.
Top and side buttons make the timer easy-to-use and the large LCD helps you view timings quickly. A great gift for anybody starting out in the kitchen or even the experts that need to update their kitchen accessories, you can't go wrong with a decent timer!
Beeper loudness – 3/5
Magnetic hold – Yes
Ease of use – 5/5
Nifty feature – teamed with matching scale and thermometer (if that counts?)
Price: £39.99 (Giftset)
Free to download from the app store or google play, the Salter Cook app features a built-in-timer that you can use straight from your smartphone or tablet!
The Salter Cook app actually incorporates 8 timers! Each can time up to 24 hours and you simply drag the timer to your target timing. No need for Bluetooth or Wifi once you've downloaded it, the timer will work wherever you are. Featuring simple count-down and memory functions, the Salter Cook timer is perfect for the kitchen and if you use it with the rest of the app, great for making cooking as interactive and fun as possible.
Beeper loudness – 5/5
Magnetic hold – No
Ease of use – 5/5
Nifty feature – Accessible from your smartphone
Price: Free to download!