Why not bring a taste of Italy to this year's National Prosecco Day on August 13th?
Whether you're spending the day with friends or having a romantic night-in with your partner, we've got plenty of recipe ideas for you to try, so crack open a bottle and let's get started.
Named after the Italian village of Prosecco, located near the city of Trieste, this heavenly-tasting beverage has become a popular drink for many of us Brits, and what better choice of meal to accommodate such wine than a Napoli-style pizza with a twist?
Taking inspiration from the Pizza Pugliese, try our caramelised onion, apple, mozzarella, and fresh goats cheese pizza recipe with mouth-watering flavours that will have you hooked and serve with a cream-of-the-crop fizz.
For the best results, make this homemade pizza recipe using our EK4923 wood pellet 12" outdoor portable pizza oven and expect the tastiest results.
You will need
For the pizza dough
500g flour or plain flour, plus extra for dusting
1 tsp salt
½ tsp dried yeast (not fast action)
400ml warm water
1 tsp olive oil, for greasing
For the toppings
1 large onion, sliced
1 apple, cored and sliced thinly
4 tbsp of tomato paste
4 ounces herbed goat cheese, softened or at room temperature
150g fresh mozzarella
3 tsp thyme
2 tablespoons honey, for drizzling
3 tablespoons of regular butter
Handful of fresh basil for garnish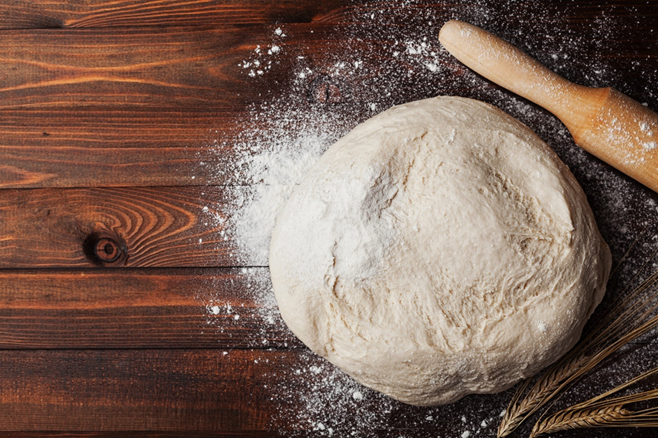 Method:
Handy Tip: Prepare your dough earlier in the day so you can enjoy your prosecco themed party celebrations later in the evening.
In a bowl, measure out the ingredients using our 1024 WHDR14 Digital Kitchen Scales with Dual Pour Mixing Bowl, then mix the flour and salt together and in a separate bowl, add the yeast into the water.
Save heaps of time when preparing your dough by using our EK4245GUNMETAL stand mixer which has 6 speed settings and a dough hook or alternatively, knead by hand on your kitchen countertop.
Switch on your stand mixer to a medium-high speed and then pour in your liquid. Watch as your mixture begins to form a ball. If you find that the bottom of your mixture is sticking, add in 1-2 tablespoons of flour, let your dough knead for approx. 8 minutes until the texture is shiny but springy (maybe test this by removing the dough onto your kitchen counter and see if it springs back into place after pressing your finger into it). If making by hand, knead your mixture for 10 minutes until slightly sticky. Be careful not to add too much flour to your mixture as this will ruin your Pizzeria-style crust.
With oiled hands, remove your dough and gently place into another lightly greased bowl, then cover tightly with clingfilm. Place in a draught-free area and leave to rise; this could take between 2-4 hours. When risen, punch it down first and bring it together on a lightly floured surface. When complete, separate your dough accordingly and roll each serving so that it forms a flat circular base, this will then serve as a blank canvas for your pizza toppings. Separate each base with non-stick baking paper stacking them onto a plate and leave to chill in the fridge until you're ready to eat/ your guests arrive.
For the toppings, melt two tablespoons of butter into a pan over a medium heat. Add the onions and stir so they are covered. Cook for 15 minutes and stir every 5 to avoid burning, if they begin to burn, add a tablespoon of water into the mix. Add 2 more tablespoons of butter and add the apple slices, then stir for another 10 minutes until soft. Remove from the heat when finished.
Cover the top of your pizza base with tomato paste, then add the goat's cheese and mozzarella along with the onion/apple mixture.
Get your pizza oven up to temperature (heating up to 500°C in 10 minutes) by adding wood pellets or alternatively, preheat your oven to 200°C and add your pizza. Remove after 10-15 minutes.
When ready and fresh out to the oven, cut into generous slices using our high precision BW11387EU7 pizza cutter.
With recipes THIS good, you won't ever have to order a pizza delivery again, but if for some reason this doesn't tickle your tastebuds, turn your pizza into a Brooklyn-style feast by adding a meat of your choice for the topping, i.e., pepperoni, BBQ grilled chicken or shrimp.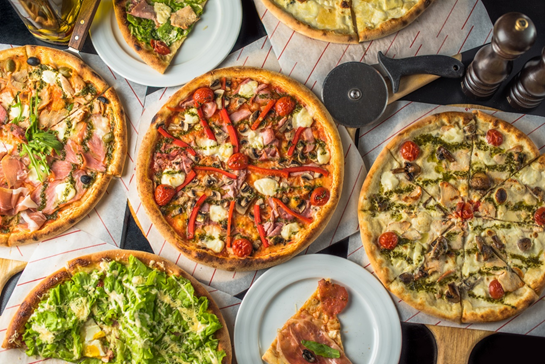 Finally, it's time to make the party pop and not just with a cork!
Decorate your garden with fairy lights and get your ice buckets for the fizz at the ready. If you've decided to host a party, avoid calling the event 'Pizza Mania'; this won't attract anybody. Why not add a glamorous spin on a 'pizza with bottomless prosecco themed party' which is guaranteed to be a success? If you're entertaining guests, make sure to create a pizza topping station, whether out in the garden or in the dining room, lay out a variety of dipping sauces, chilli flakes, additional veg and garnishes i.e., basil, rocket or chives, for all to get involved.
Not a fan of prosecco? We'll try not to judge…
Bring the bar home with our sleek EK4919 draught beer dispenser. Simply attach the dispenser to any non-carbonated keg to release fresh, chilled, and frothy beer in seconds.