It's spooky season here at Salter! With Halloween just around the corner, what better way to get into the spooky spirit than with some festive pumpkin carving? Pumpkin carving has been a Halloween tradition since the late 19 th century and is an entertaining activity for all ages, get your creative juices flowing and take a look at our step-by-step guide below. Don't forget to share your creations with us and tag @salteruk

Carve It Out
1. Pick The Perfect Pumpkin
Choose one with a sturdy stem and ideally a flat bottom! This way it won't roll around when you carve.
2. Cut From The Bottom
Cutting a lid from the bottom helps to support the sides when you carve. If you do prefer to cut from the top, make sure it's on an angle.
3. Scoop Out The Pulp
Use a hand mixer to loosen out the strings and seeds, then use an ice cream scoop to get all of this gooey goodness out. You also need to thin out the inner wall to be at least 1 ½ inches thick.
4. Time To Carve
Sketch your masterpiece on paper first and hold the pumpkin on your lap to carve. Make sure to always cut away from you.
5. Light It Up
Once you have your masterpiece, place your candle into your pumpkin before lighting it. If you don't want to use real candles you can try fairy/Christmas lights, flameless tea lights, LED candles or glow sticks instead.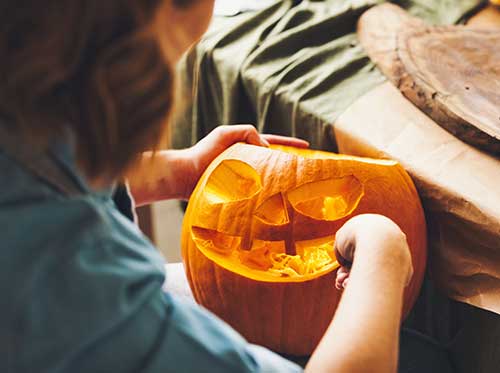 Preserve Your Pumpkin
Make your lanterns last longer with these top tips!
Once deseeded clean your pumpkin inside and out so it doesn't go mouldy – water and white vinegar should do it and allow to dry fully before carving.
Apply Vaseline or vegetable oil to the carved edges to keep them moisturised and let them soak in
Spray each day with water to keep hydrated.
If you don't want to use your pumpkin as a lantern they make great serving bowls for punches and cocktails, you can even use it to decorate your table as a centrepiece or use as a quirky snack bowl!
In the spirit of pumpkin spice and everything nice. Once you've removed the pumpkin seeds, don't just throw them away. Try roasting the seeds for a healthy snack or make some gooey chocolate and pumpkin seed cookies.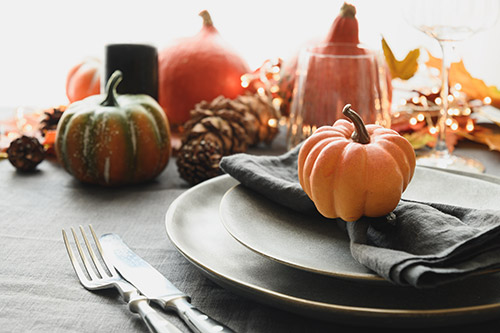 You can use the flesh of your pumpkin too and avoid food waste. From tasty pumpkin spice cupcakes to hearty soups, sauces and pies, but if pumpkin isn't your thing you could try an alternative, here are our favourites! :
Butternut Squash
Kobocha
Mixed & Winter Squash ( Carnival, Buttercup, Acorn)
Hubbard Squash
Sweet Potato
Courgette